How Rihanna Became The Biggest Singles Artist Of Her Generation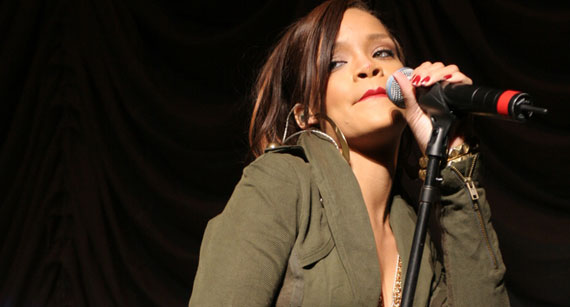 Adam J. Sablich | Shutterstock
Rihanna's dancehall-themed debut hit, "Pon De Replay," may have been utterly infectious, but there was little to suggest that her shelf life would last any longer than the army of identikit female R&B vocalists (Ashanti, Ciara) that had burned brightly in the first half of the 00s.
Even when her second album, A Girl Like Me, spawned two massive hits in the shape of the "Tainted Love"-sampling "S.O.S." and power ballad, "Unfaithful," its surrounding filler didn't exactly indicate that she was about to become one of the world's biggest superstars.
And yet by the end of 2012, it's difficult to imagine pop music without her. In the short space of seven years, she's gone from complete unknown to the biggest-selling digital artist of all time, the youngest ever solo act to achieve 11 Billboard number ones and ahead of the likes of The Rolling Stones and Paul McCartney, the 10th most successful artist in UK chart history. But how has she done it?
Obviously, 2007's Good Girl Gone Bad was the catalyst. Home to the now iconic "Umbrella," a ten-week UK No.1 which many blamed for the floods of rain that ruined that year's summer, it was an absolute juggernaut of a record which could have launched every track as a single. Timbaland, Justin Timberlake, Ne-Yo all contributed, but Rihanna needed little help fronting such immediate hits as the Michael Jackson-sampling "Don't Stop The Music" and the hook-laden electro-pop of "Disturbia," one of three tracks included on a bonus edition which extended its stay on the chart to almost two years.
With seven Top 20 hits from the same album, it was little surprise that producers and song-writers were clamoring to give her their best material for 2009 follow-up, Rated R. But following the brutal physical assault she suffered at the hands of Chris Brown the night before she was due to pick up a Grammy Award, its lead single proved that she didn't always choose the easiest route to success. An extremely solemn R&B ballad, which ended with the sound of a gunshot, the aptly-titled "Russian Roulette" was something of a curveball which threatened to derail the whole campaign until the more joyous "Rude Boy" steered it back on track.
Collaborations with T.I. ("Live Your Life"), Jay-Z & Kanye West ("Run This Town") and Eminem ("Love The Way You Lie"), the latter of which became her biggest-selling single, consolidated her hit-making status. But it was her prolific work rate that ensured she remained an ever-present on the chart. By 2010's Loud, she'd released five albums in just five years, an astonishing output considering Britney took eight years, Madonna nine and Janet Jackson eleven to reach the same tally in their careers.
Whether it was a concerted effort to ensure the likes of Lady Gaga and Katy Perry didn't steal her thunder or just a genuine desire to keep creating new music, it was a relentless strategy that paid off as lead single, "Only Girl In The World," effortlessly stormed to number one, as did the Drake-featuring "What's My Name" and the controversial "S&M."
Still resisting the temptation to take a well-earned break, 2011's Talk That Talk spawned arguably the defining song of her career. An anthemic repeated melodic synth-riff, a hands-in-the-air ravey build-up and a stunningly bleak vocal turn from Rihanna, Calvin Harris production "We Found Love" spent ten weeks atop of the Billboard charts, meaning she had scored a number one every year for six consecutive years.
Guest appearances on tracks by Nicki Minaj ("Fly"), Drake ("Take Care") and Coldplay ("Princess Of China") helped to add to her hit tally. And although 2012 was dominated by question marks over her private life thanks to rumors of a reunion with Chris Brown and allegations of drug use at Coachella, Rihanna proved she remained as popular and as workaholic as ever, when "Diamonds," the first release from her seventh studio album, Unapologetic, even beat boyband phenomenon One Direction to the UK number one spot.
Indeed, at the rate Rihanna's going, it's difficult to see how the most successful singles artist of her generation won't eventually end up becoming the most successful singles artist of all time.
Around the Web