Rihanna, Eminem Team Up for Monster Stadium Tour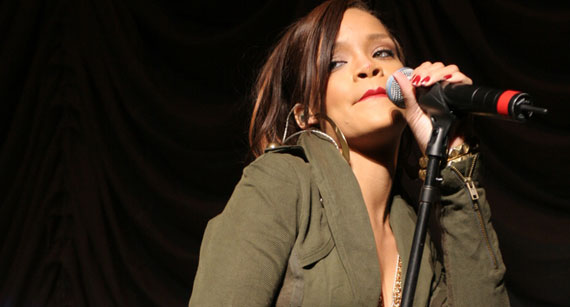 Adam J. Sablich | Shutterstock
Eminem and Rihanna have collectively announced that they're set to embark on a concert tour this August. Making the most of their joint hit "Monster", the pair will make stops in only three cities across the very tiny duration of the Monster tour.
"There are some shows coming up with Rihanna," Eminem said in an exclusive interview in the latest issue of XXL Magazine. "It's a three-city tour: New York, L.A. and Detroit coming in August. The Monster Tour."
Eminem and Rihanna first joined forces on the 2010 song "Love the Way You Lie" before reuniting for "The Monster," which the rapper released at the end of October as the fourth single from The Marshall Mathers LP 2.
In an interview with Rolling Stone Magazine from last fall, Eminem said that the new collaboration with Rihanna was "not necessarily a sequel, as much as it is a revisitation" to his past. "To me, it's more about the vice, and it's more about the nostalgia," he said.
Eminem is currently on his Rapture tour in Australia with Kendrick Lamar and J. Cole, while Rihanna recently took part in yet another collaboration, smoking cigars in bed, gyrating, and generally making the most of her lady lumps (different artist, I know) with Shakira in the video for her single with the Colombian singer, "Can't Remember to Forget You."
Eminem and Rihanna's frequent collaborations have proved a profitable enterprise, with "The Monster" topping the charts in twelve countries including Australia, Canada, France, Ireland, New Zealand, Switzerland, the United Kingdom and the United States' Billboard Hot 100. Well, if it ain't broke, don't fix it, as they say (which, let's be honest, has multiple meanings in this context.) The video for said single features references to multiple videos from Eminem's back catalog, including "My Name Is", "Lose Yourself", "The Way I Am" and the 2001 Grammy Awards performance of "Stan" with Elton John.
Around the Web