The 'Russian Facebook' now at war with Major Record Labels
One social network is now the subject of much of the music industry's collective anger, and it's probably not one you're using like Facebook or Twitter. VK (previsouly known as VKontakte) is Russia's 'version of Facebook' and has been turning a blind eye to some systematic music piracy happening on it's servers.
Three separate lawsuits have been filed by Sony Music Russia, Universal Music Russia and Warner Music UK in the Saint Petersburg & Leningradsky Region Arbitration Court, in conjunction with the local Russian industry body, The National Federation of the Music Industry (NFMI) and it's global counterpart, The International Federation of Phonographic Industries (IFPI).
The company has a bad record when it comes to these things. Another court ruling in 2012 ordered VK to pay $7000 to Gala Records (now known as Warner Music Russia) for not being active enough in it's attempts to stamp out widespread copyright infringement.
The record companies seek a court order requiring VK to implement industry-standard measures that are known to combat the universal problem of music piracy. Examples include things such as audio fingerprinting which prevents illegitimate re-uploads of that precise repertoire and to stop unauthorized uploading of the companies' catalogs.
Moreover, the current legal action includes a claim for compensation of just over RUB 50 million (US $1.4 million). To date, VK has yet to pay any of the claimants for their music, even after months of legal preparation and persuasion.
ConcertTour were able to find at least one example for each of the top twenty songs on the Billboard Hot 100 within seconds of signing up. Already got the original Facebook? No problems, signing up and importing your details takes seconds as the social network utilizes your account information and display picture for use on the VK network. Free music streaming remains a key appeal to users of the site, as all music is available a mere click away at the top toolbar alongside the 'search' and 'log out' functions – right in plain view.
The website's appearance down to the color scheme and site format are near identical to the original Facebook set up by Mark Zuckerburg almost 10 years ago, a testament to just how universal the social network's influence has become.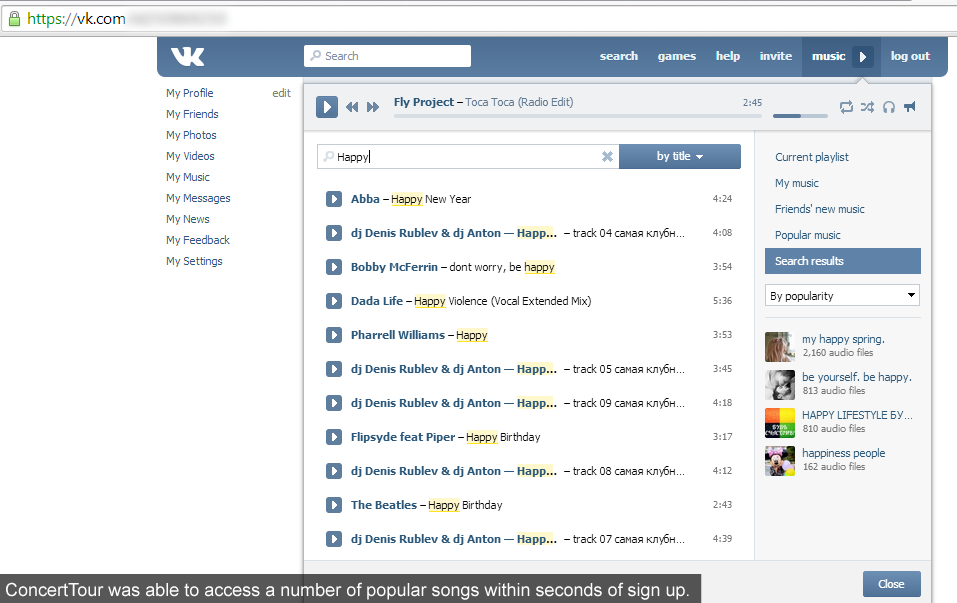 The site (VK) is the second most popular social network in Europe and is used predominantly by Russian speakers in the East of the continent (it's Russia's second most popular website) plus a large community of users from neighboring countries like Ukraine, Belarus, Kazakhstan, Moldova and Azerbaijan.
IFPI Chief Executive Frances Moore said: "For the music industry to grow and prosper, it needs digital partners that are licensed, that respect copyright and which pay artists and producers for their work and investment.  VK's music service, unlike others in Russia, is an unlicensed file-sharing service that is designed for copyright infringement on a large scale.
"We have repeatedly highlighted this problem over a long period of time. We have encouraged VK to cease its infringements and negotiate with record companies to become a licensed service. To date the company has taken no meaningful steps to tackle the problem, so today legal proceedings are being commenced."
The legal proceedings are a hark back to a time when the music industry and new technology were in a state of total conflict, such as in 2001, when a California court ordered that the online music sharing service Napster must stop trading in copyright material. VK remains one of only a few prominent internet businesses that deliberately and publicly flout industry-standard practices with regard to copyright law.
Will the action by the major labels have any success? In this political climate, it seems unlikely. Pavel Durov, the site's rather liberal-minded Matrix-obsessed founder, has recently departed and effectively given majority control of VK to Russia's richest man — Alisher Usmanov — worth an estimated $20.2 billion. Why does this matter? Because like most of Russia's richest men, he's a close friend and ally of President Vladimir Putin, a man known to not be particularly enthusiastic about anything American at the moment, especially since the Ukraine/Crimea crisis in which Russia has condemned the actions of the US-backed Ukrainian Government in Kyiv.
The International Federation of Phonographic Industries might represent the music industries all over the world but a disproportionate chunk of that music revenue belongs to the United States and its allies. In 2012, all of the top ten global albums and nine of the top ten global singles were in English and the US and UK are the world's first and second biggest music exporters respectively. If the running of VK falls further and further into the clutches of Putin we can probably expect a more liberal attitude to music piracy at the expense of the West's music business.
Around the Web