Toby Keith Tells You to Shut Up and Hold On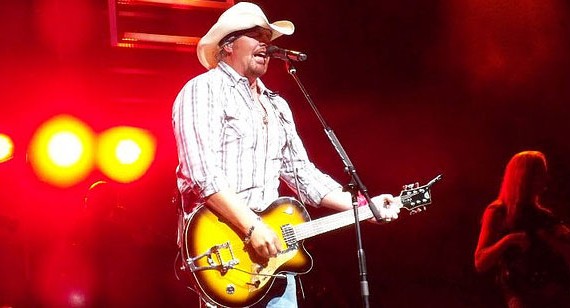 As the prophecy foretold, or rather, as he promised, Toby Keith had a big announcement for fans on Monday (March 3rd), and he didn't bail on that promise. The star is embarking on a 2014 tour in just a few short months, as revealed to fans via YouTube.
Keith used a video of fans of all ages and DJs saying, "Get in," "Sit down," "Shut up" and "Hold on" to announce his 2014 Shut Up & Hold On Tour on Monday.
In classic Toby Keith style, the tour will be presented by Built Ford Tough, Ford F-Series Trucks and kicks off on May 25th at Iowa's Tree Town Music Festival. After that, the country star will make stops in, among other places, Cleveland, Chicago, Cincinnati and Pittsburgh, before wrapping up on September 27th in Philadelphia.
Aside from preparing for this upcoming tour, Keith is also going to be featured on an album of Doobie Brothers hits.
In an interview with Radio.com last year, Keith spoke about allowing himself to take risks while recording the lead single and title track off his latest album, Drinks After Work, of which the tour is in support. "Every once in a while I'll step out and do something crazy if it's a great song," he said. "In the last 20 years I've done that three or four times. I've found something that's way out of the norm, and I would jump out and do it. This just landed in my lap, and I didn't even know if we would get a good cut on it because it was so different. It just bloomed in the studio, and when we got done they said, 'You have to pick a single.' I had a deadline to meet, and I had a few things in front of me that I really liked, and I said, 'This one sounds like summertime to me, let's go with this.'"
Around the Web