Vampire Weekend's Afro-Pop Influence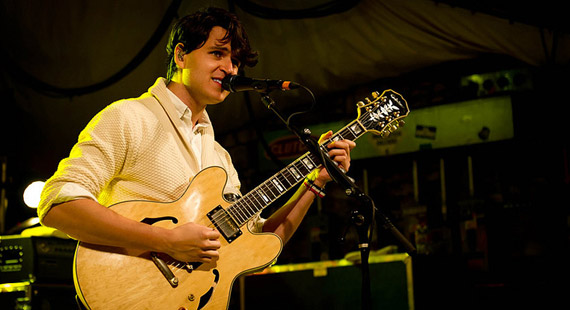 Mark Runyon | ConcertTour.org
As their eponymous debut shot up the indie charts upon release in 2008, Vampire Weekend became the mainstream face of indie-pop. Understandably, most music fans are not keenly aware of current and fading stylistic trends in independent music. Most have no clue about the likes of chillwave, jangle-pop revivalism, or the plethora of other movements that define particular years and decades of independent music. So when an artist like Vampire Weekend comes along, and produces an accessible hybrid of the conventionally modern and nostalgically reverent, it provides an accessible point into the indie music scene by those typically devoted to other music genres, whether it be hip-hop, country, or Top 40. The bouncy, jubilant nature of the NYC-based quartet is as immediately engaging as their story: a bunch of kids at Columbia University turning their shared love for Afro-pop and punk into one of the most successful independent albums of the '00s. With their very structured pop-driven formula, it makes digging into the likes of Afro-pop and numbing punk quite accessible for the casual listener. In fact, the sound is so seamless and cohesive that the role of Afro-pop in Vampire Weekend's music will be news to some.
Vampire Weekend's ascent was abrupt enough to call an overnight success story, at least according to bassist Chris Baio. "We were in Pontiac, Michigan, in December of last year, and we got a call from our manager that Spin wanted to put us on the cover," he told OC Weekly in 2008. "To give you some context, we played for 120 people in a bar, and afterward, we tried to cross the border into Canada, and we got rejected. It was just the four of us in a minivan. So having Spin wanting to put us on the cover seemed kind of crazy." Indeed, Spin featured the band on their cover, aptly asserting they were growing "at the new speed of buzz." Even the band seemed surprised by their newly discovered notoriety. As the blogosphere became more relevant toward the success of independent musicians, buzz-driven success was emerging. Along with names like Clap Your Hands Say Yeah and Grimes, Vampire Weekend tend to be the poster children of blog-driven success. Out of all the products of a similarly successful nature, they are the most immediately recognizable to the average music fan. It is worth noting that, in addition to showcasing hybrids of Afro-pop and punk, Vampire Weekend was the first exposure for many to the music blogosphere's growing influence. After all, unless one is well acquainted with the '70s music scene or Paul Simon, it's hard to succinctly identify Vampire Weekend's influences. And that's where the blogs and music publications stepped in, enjoyably using it as an excuse to recap the records and artists that made Vampire Weekend's sound simultaneously accessible while still nostalgically inviting.
Afro-pop is merely one aspect of Vampire Weekend's sound, in addition to ska, punk, and classical music. But it is arguably the most defining attribute of the band's vibe. Oft comparisons to Paul Simon's classic Graceland seem inevitable, and not just because Vampire Weekend were also white guys attempting Afro-pop. Frontman Ezra Koenig possesses agile and lively vocals that echo Simon's approach without sounding distinctively like him. And when supplemented by bouncy marimbas, swift percussion, and tribal-like vocal reflections, the match is a perfect fit. While Vampire Weekend didn't record close to the heartland of their influences, like Simon did in South Africa, the sound was similarly genuine – even if it didn't reach the dizzying complexities packed into Graceland. What Vampire Weekend delivered was a more succinct interpretation of the genre, one that all listeners could dig into without worry of pretension or indie cred, even if Vampire Weekend are a well-known representation of the latter.
Around the Web