Will the Beastie Boys Ever Tour Again?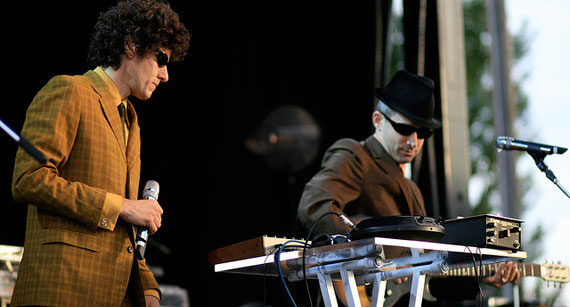 Pretty much everyone in the world has heard the Beastie Boys at some point. Whether you had that one friend who was into hip-hop and would insist upon putting them on every time you turned your back on the music at a party or you're a hardcore fan of your own accord, they're a legitimate cultural phenomenon.
They started off life as a hardcore punk band, supporting all the greats—Reagan Youth, Dead Kennedys, Misfits—and playing in iconic venues all over America. Then they released their first hip-hop number, "Cooky Puss," and found it a hit across the local underground clubs. Intrigued by the new music they had created, they started working rap into their music and were soon one of the biggest name in hip-hop. Pretty fly for a handful of white guys.
Then, thirty years and eight albums later, in 2012, things took a tragic turn. Adam Nathaniel Yauch, one the original trio who was generally known as MCA, passed away after a long struggle with cancer of the salivary gland. With fans mourning all over the world—the group had been producing music right up until his death, and didn't look like they had any intention of stopping—there was a question that everybody wanted answered: would Beastie Boys ever tour again?
"You would be so swept up in his excitement and positivity," said fellow band member Adam Horowitz (Ad-Rock) in an interview with MTV following his friend's death, "We recorded a few months ago. It wasn't any different than before. We spent more time making fart jokes and ordering food, which was true to form. That's why it always took so long for us to put record". While discussing the band's last few recording sessions and time spent together, Ad-Rock did discuss that the band hadn't always been as tight as they had seemed to be—hinting that there was a chance that the duo might continue without their third member. Apparently, there was some falling out over the royalties from their first album, License to Ill, and the band had then introduced the power of veto that left the creative process split between the three of them. Songwriting and the creation of music was not just on one member of the band, suggesting that they might move on to make more music despite the loss of one of their key players. It's also worth noting that Yauch put a clause in his will that forbade the use of his music in any advertising capacity, which might force the remaining members to start making new music just so they can publish it freely if this turns out to stand up in court.
Perhaps more importantly, the two remaining members—Ad-Rock and Mike D—have come out to say that they plan to continue making music together. However, without the full trio, they're reluctant to continue using the Beastie Boys moniker, and are planning to drop it for a new title they'll use as a duo. They've also said that they'd recorded new and unreleased music before the death of Yauch, though whether or not this will ever see the light of day is another question altogether.
One of the things that set the band apart from other groups who attempted similar genres and styles at similar times was that they were truly a tight band. And not just in terms of their music—they had an amazing chemistry, a driving force behind their music, and a friendship that would sustain them through three decades of career ups and downs. So fans have reacted with varying degrees of surprise to the news that the surviving members will be dropping the Beastie Boys name; for some it's a way for the group to respect the passing of an integral member; for others, it's the exact opposite. But what would Yauch have made of their decision to keep going?
Mike D said in an interview after the loss of his bandmate, "Yauch was a gifted MC. It was his flow on things, rather than specific lyrics, that first blew I and [Adam] away…Horovitz and I were maybe a little bit jealous…I can see making music. I don't know about a band format. But Yauch would genuinely want us to try every crazy thing we wanted but never got around to".
So, there's your answer: the Beastie Boys will never be the same again, but we might be seeing something of them again soon. And, while we might still be mourning the loss of one of the most influential musicians in the world of hip-hop, fear not, because we could be looking at a whole new era of the Beastie Boys-for better or for worse, they're here to say.
Around the Web