10 Things You May Not Know About George Strait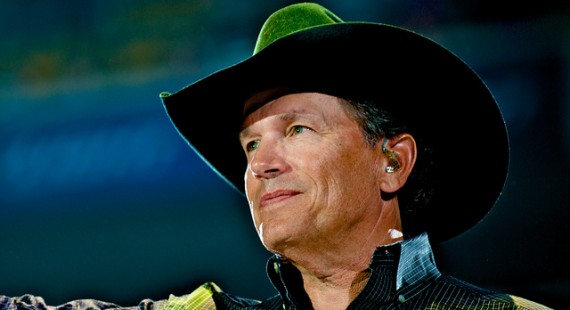 Ah, George Strait. It's now impossible to hear that name without a nostalgic twang lassoing the speaker's voice. After decades establishing himself as the King of Country music, George Strait is throwing in his cowboy hat with The Cowboy Rides Away tour. Finishing up a couple weeks back in Texas (where else?), the man behind the music has bid farewell after a tour that lasted over four months. In honor of the man himself, we're taking a look behind the denim with some little-known facts about George Strait.
1) The Number One Spot
Even though George Strait landed in the number one spot on the Billboard charts no less than fifty-nine times — which is more than any other artist in any other genre in history — some of his biggest hits never cracked that elusive spot. "Run," "The Fireman," and "You'll Be There" are some of his most fondly remembered numbers, but they never got the recognition of that coveted number one spot. They were number one in our hearts though, right? Stop throwing things at me.
2) Rodeo King
In a morsel of knowledge that seems almost too true to be actually true, George Strait is a huge fan of the rodeo and is a card-carrying, fully-inducted member of the Professional Rodeo Cowboys Association. He even runs his own yearly team-roping event back in his home state of Texas, and the event usually attracts some of the biggest competitors from across the country. It is gearing up for it's 32nd running this year.
3) An Elusive Grammy
Despite the fact that his trophy room is probably more like a trophy house — seriously, this guy has more Entertainer of the Year awards than most of us could manage to polish in a lifetime, as well as being named by Billboard as the top country artist of the last twenty-five years. But it took him twenty-nine years to scoop up a well-deserved Grammy. He eventually scored a statue for Best Country Album for his 2008 release Troubadour.
4) Ol' Blue Eyes
Although it seems to have been forgotten after it was omitted from the 90s Duet Album it was intended for, Strait recorded a version of "Fly Me To The Moon" with the original crooner, Frank Sinatra, who Strait had long considered a hero and a huge influence on his music. Even though the song was left off the tracklist on Frank's CD, it found the light of day in the compilation album Strait Out of the Box only two years later.
5) Army Time
Before he struck it big, George Strait spent some time in the army — enlisting in 1971. It was in the service that he got his very first taste of the professional music world, beginning to perform with a band called Rambling Country while he was still serving as a soldier. To this day, Strait is an outspoken supporter of veterans, donating houses to various wounded veterans on every stop of his The Cowboy Rides Away tour.
6) Family Ties
While Strait has occasionally expressed disappointment that he didn't stick to writing his own songs past a very early point in his career, his son Bubba was the one who encouraged him to dive back into songwriting for his 2009 album Twang. The pair co-wrote three of the songs from that album, including "Arkansas Dave," and Bubba also had a hand in seven songs from his penultimate 2011 album, Here For a Good Time.
7) Pure Country
While most die-hard George Strait fans are well aware of the movie Pure Country — in which Strait stars as a country singer who winds up branching out into different sounds — many would rather forget it. But not everyone realizes that his first role was a bit part in the 1982 thriller The Soldier, where George can be seen getting involved with a bar room brawl.
8) The Ultimate Honor
At the last show on the first leg of his farewell The Cowboy Rides Away tour (which took place in his hometown), local newspapers reported that the singer found Rick Perry, Governor of Texas, waiting for him when he came off stage at the Alamodome. The governor was there to inform Strait that May 18th — George Strait's birthday — would officially be known as George Strait Day in his home state of Texas. Now, there's a public holiday we can all get behind.
9) The Hat
As with all truly great country and Western stars, Strait is rarely to be found without his spectacular Resistol cowboy hat, which has become his trademark look. But for all you wannabe country superstars out there keen to follow the same path as ol' George, you can actually choose from a selection of twenty-four special George Strait cowboy hats. Or collect them all!
10) By His Own Rules
You've probably already worked out by now that George Strait really doesn't do interviews. He's said that he wants to keep the focus on his family, loved ones, and most importantly, his music (for the record, apparently he's as charming and decent in those few interviews that he does grant as you'd hope he would be). But he also steers clear of another music industry staple — music videos.
Around the Web