15 Hit Singles Artists Regret Making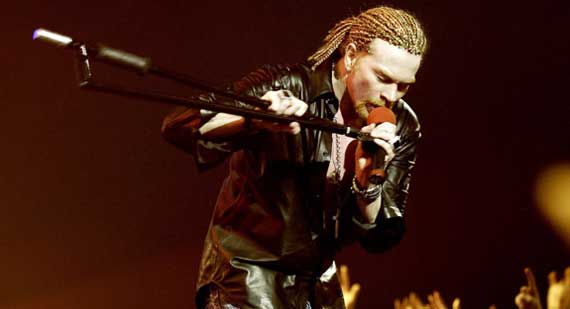 We've all been there.  We've written or said something we instantly regretted.  These moments make us thankful we aren't under the blinding spotlight of fame.  Once an artist releases a song, however, there's no taking it back.  Here are some artists who hate or regret creating their own songs.
 James Blunt "You're Beautiful"
In interviews, Blunt has admitted that he finds his 2005 hit "annoying."  Rolling Stone also agreed, giving "You're Beautiful" the #7 spot on their list of "Most Annoying Songs."  Blunt claims the song was "force-fed down people's throats," continuing on to say, "… it became annoying.  And then people start to associate the artist with the same word.  I think, at the end of the day, I was marketed by a record company to appeal to women during Desperate Housewives' commercials and you lose 50% of the population in doing so."  His quickness to blame his marketing team is annoying in itself.  A chart-topping success, "You're Beautiful" has sold over 3 million copies in the U.S. and received three Grammy nominations—not too shabby for a track Blunt seems to despise.  He claims the marketing and release of the song made him seem like "an insanely serious person."  If he did not want to be seen this way, why did the music video feature him committing suicide because of a breakup?  Perhaps he should have considered using the word "No" when he was approached by these ideas he now claims to hate.  "I have a couple of over-emotional miserable songs that I'm known for, but I think it's turned that corner now.  People can see I don't take myself that seriously," Blunt says.
Guns N' Roses "Sweet Child O' Mine"
The most successful song of their career, "Sweet Child O'Mine" was not Slash's fondest song.  The legendary guitarist jokingly came up with the infectious guitar riff while practicing in the studio.  The rest of the band tuned into his playing, put their parts together, and the song was created despite Slash's bafflement.  Slash says, "I didn't hate it, but I wasn't fond of 'Sweet Child O'Mine.'  And that gives you a good idea of how credible my opinion is… The actual riff itself I love, but the song itself…"  Upon its 1988 release, the song hit #1 on the Billboard Hot 100 chart, in spite of Slash's opinion.  He admits, "This was an up-tempo ballad.  That's one of the gayest things you can write.  But at the same time, it's a great song—I'm not knocking it – but at the same time, it just did not fit in with the rest of our, sort of, shtick.  And, of course, it would be the biggest hit we ever had."  He continues to say, "It was a fluke.  I was sitting around making funny faces and acting like an idiot and played that riff. Izzy started playing the chords that I was playing, strumming them, and all of a sudden Axl really liked it. I hated that song because it was so stupid at first. I hated the guitar part. Now it's more love. But there was hate."  Sounds like the rocker had an issue with seeming soft, but I doubt the rest of the band (and their bank accounts) care.
Radiohead "Creep"
Their angst-filled alternative rock hit shot Radiohead into the Top 40 and even landed them the #3 spot on VH1's "Top 100 Songs of the '90s."   The single's success from their first album, Pablo Alto, allowed the band to tour and launched them into people's homes.  While it seemed like everyone on the planet loved "Creep," there was one person who didn't: Thom Yorke.  The band's lead singer has made his disdain for the song well-known, often refusing to play it live.  Listeners often associated Yorke with the song's creepy narrator: "I've had letters from Death Row, guys who have killed people, and they're responding to the lyrics on 'Creep'.  That really fucking scared the hell out of me."  While criminals and innocent adolescents alike have related to "Creep," Yorke laments that his once personal song is no longer his.  As the song shot to fame, it began to make Yorke rather hostile: "'Creep' has been taken into so many contexts that it's everybody else's song now, and I have to let that lie, sadly."  That's the problem with releasing a hit song—it's no longer yours.  But that's the whole point of songwriting—sharing your music with the world!  Yorke hates the double-edged sword "Creep" represents: the single made Radiohead successful, but yet he believes the song is "crap."  To twist the knife a little further, the band was even sued by The Hollies over "Creep."  They claimed Radiohead ripped off their 1973 song "The Air That I Breathe," and they won.  Albert Hammond and Mike Hazlewood were awarded co-writing credits on the track.
Madonna "Like A Virgin"
Madonna's first #1 hit in the U.S., "Like A Virgin" was a controversial song that helped launch her career.  While Tom Kelly and Billy Steinberg penned the track, Madonna brought her signature style to the 1984 song.  During her 1984 performance of the single at the MTV Video Music Awards, she rolled around the floor in a sexual, somewhat drunken, manner to the horror of her management team.  Nineteen years later, she one-upped herself by performing the song with Britney Spears and Christina Aguilera.  Yes, the infamous girl-on-girl kisses… We know, we know.  While Madonna has performed the song countless times, she seems a bit tired of it, and even admitted in a 2009 interview that it's the one song she doesn't want to hear when she is out and about: "For some reason people think that when you go to a restaurant or you are going shopping that you want to hear one of your own songs. It's usually 'Like a Virgin' and that is the one I don't want to hear."  During an interview with New York radio station Z100, Madonna said, "I'm not sure I can sing 'Holiday' or 'Like a Virgin' ever again. I just can't — unless somebody paid me, like, $30 million or something. [Like if] some Russian guy wants me to come to the wedding he's going to have to a 17-year-old, you know?"  She has also thrown a few of her other hits under the bus, telling Rolling Stone, "I've never been a good judge of what things are going to be huge or not. The songs that I think are the most retarded songs I've written, like 'Cherish' and 'Sorry,' a pretty big hit off my last album, end up being the biggest hits. 'Into the Groove' is another song I feel retarded singing, but everybody seems to like it."
Lorde "Royals"
Apparently two Grammy Awards for "Song of the Year" and "Best Pop Solo Performance" aren't enough to convince Lorde that "Royals" is a pretty damn good pop song.  In an interview, she likened the song to a 2006 Nokia ringtone, saying, "None of the melodies are cool or good!  It's disastrous. Awful… But for some reason, in the context of the way I released it, it just worked."  Having released the track in 2013 on her debut album Pure Heroine, Lorde was instantly a huge success.  The song spent nine weeks on the Billboard Hot 100 and has sold over 10 million copies.  While the 18-year-old songstress doesn't feel keenly about "Royals", she seems to enjoy other artist's interpretations: "I listen to people covering the song and putting their own spin on it, and I listen to it in every single form except the one I put out… and I realize that actually it sounds horrible!"  Despite Lorde's belief that the song is terrible, it has broken records and topped best songs lists.
Warrant "Cherry Pie"
Quite possibly the only Warrant song you know, "Cherry Pie" was released in 1990 much to frontman Jani Lane's surprise.  During the process of writing their second album, record executives didn't feel there was a clear hit single, and they told the band to come up with a catchier song.  Lane angrily and sloppily threw together "Cherry Pie" in 15 minutes, and the executives loved it, making it the album's title and first single.  Lane says, "I hate that song.  I had no intention of writing that song… And my legacy is 'Cherry Pie,' everything about me is 'Cherry Pie,' I'm the 'Cherry Pie' guy.  I could shoot myself in the fucking head for writing that song."  During my research, I found a few faint whisperings of a Jani Lane biopic titled Cherry Pie Guy.  I don't know if the film ever came to fruition, but even the title is enough to make the late singer roll over in his grave.
Vanilla Ice "Ice Ice Baby"
Infamously known for ripping off Queen and David Bowie's hit "Under Pressure," Vanilla Ice hates his hit "Ice Ice Baby."  He hates it so much, in fact, that he supposedly even went to MTV's office to destroy their master copy of the video.  The song was his debut single and the first rap song to reach #1 on the pop singles chart.  It's pretty incredible that he hates the only song that made him famous.  I think the only things he has done since is make cameos in movies and star in a string of ridiculous reality shows.  We're talking Vanilla Ice Goes Amish and The Vanilla Ice Project… I can't even go on…
Oasis "Wonderwall"
Released in 1995, "Wonderwall" was written by Noel Gallagher, and it instantly became a chart topping single from their album (What's the Story) Morning Glory?  While the band released many other hits over the years, they became known for "Wonderwall," much to Liam Gallagher's bewilderment.  He has been rather open about his hatred for the song, saying, "I can't fucking stand that fucking song!  Every time I have to sing it, I want to gag."  Gallagher continues, saying, "You go to America, and they're like: 'Are you Mr. Wonderwall?' You want to chin someone."  Unless you want to get clocked in the face, don't mention this song to Gallagher.
The Who "Pinball Wizard"
The largest hit from their 1969 rock opera album Tommy, "Pinball Wizard" is about a deaf, blind, and mute boy who happens to be marvelous at pinball.  While the premise is… well… out there, the song was hastily put together by Pete Townshend in an effort to impress music critic Nik Cohn, who happened to be a fan of pinball.  Townshend never thought it would be a success, claiming it was "awful."  But Cohn ate it up, and it has been a hit ever since.  Elton John and Rod Stewart have even recorded their own cover versions of the track.  Townshend maintains that this was "the most clumsy piece of writing [he's] ever done" but The Who continue to play the song for the enjoyment of their fans.
The Pretenders "Brass in Pocket"
Released in 1979, "Brass in Pocket" was written by Chrissie Hynde and James Honeyman-Scott.  The song was the band's third single and a huge success, reaching #1 in the UK and #14 on the Billboard Hot 100 chart.  Considered to be one of The Pretenders' best songs, Hynde couldn't disagree more; in a 2004 interview, she said, "I wasn't very happy with it and I told my producer that he could release it over my dead body."  Obviously, the label released the track anyway, but Hynde maintains she "hated [it] with a vengeance," calling the song "so obvious."
Beastie Boys "Fight for your Right (to Party)"
The Beastie Boys infamously penned their 1986 hit in an attempt to mock idiot partygoers who sweatily chant along to ridiculous anthems.  Unfortunately, no one seemed to pick up on the irony, and douchey partygoers everywhere drunkenly shouted along to the song anyway, adopting it as their party anthem.  In an interview, Mike D complained that these types of people "were oblivious to the fact that it was a goof on them."  In their greatest hits album, The Sounds of Science, the Beastie Boys even go so far as to say the song "sucks."  Mike D also says, "The only thing that upsets me is that we may have reinforced certain values of some people in our audience when our own values were actually totally different."  Basically, they inadvertently encouraged crazy, wild behavior and regret it.  Sorry guys, guess some people just can't hang.
Led Zeppelin "Stairway to Heaven"
Released in 1971 as a part of their untitled fourth album, "Stairway to Heaven" has often been dubbed one of the greatest rock 'n roll songs of all time.  Led Zeppelin's iconic lead singer, Robert Plant, does not hold the eight minute long song in such high esteem, saying "I'd break out in hives if I had to sing that song in every show.  I wrote those lyrics and found that song to be of some importance and consequence in 1971, but [years] later, I don't know.  It's just not for me."  Tell us how you really feel, Robert!  The more fans became obsessed with the song (and stoners tried to piece together crazy theories as to its hidden meanings), the more Plant seemed to detest it.   Plant even donated money to a Portland radio station that promised to never play the song again!  Guitarist Jimmy Page, however, feels quite the opposite, as he has expressed his adoration for the classic song.  Led Zeppelin biographer Charles R. Cross claims, "Page's love of the tune seemed to go in inverse proportion to Plant's hate."  Cross also asserts that the song only became popular because radio DJs needed a song that was the "perfect length" for a cigarette break.
Simple Minds "(Don't You) Forget About Me"
When most people hear this song, the 1985 movie The Breakfast Club instantly begins playing in their heads.  Simple Minds didn't pen the infamous track, but it became a massive success because of the film and shortly shot to #1 in the U.S.  The song was previously turned down by Cy Cumin from The Fixx, Bryan Ferry, and Billy Idol, which gives you some indication as to the other artists that disliked the song.  Simple Minds hesitantly took the bait and recorded the song at the insistence of their label.  As time passed, they grew resentful of the being known for this song and rarely played it live.
Frank Sinatra "Strangers in the Night"
Frank Sinatra's 1966 ballad "Strangers in the Night" helped launch his early career, but he made his disdain for it well known.  He referred to the song as "a piece of shit" and called it "the worst fucking song I have ever heard."  If he performed it live, it was often begrudgingly, and it has been said that he could be seen mouthing "I hate that song" after forcing his way through a performance.
John Cougar Mellencamp "Jack and Diane"
Of his iconic song "Jack and Diane," John Cougar Mellencamp has said, "As much as I am a little weary of those two, I don't know any other two people in rock & roll who are more popular than Jack and Diane."  Unlike other artists on our list, Mellencamp seems to have come to terms with the song, "Some people probably think there's a place in hell for me because of those two people! But it gave me the keys to do what I want… I've lived the way I wanted to live, sometimes recklessly and stupidly, but still been able to do that. I've been able to live on my whims, that's what Jack and Diane gave me, so I can't hate them too much."  The single was the only #1 hit of his career and is regularly played on classic rock radio stations (so much so that my father insists on changing the channel any time it's played).
Around the Web