20 Songs That Ripped Off Other Songs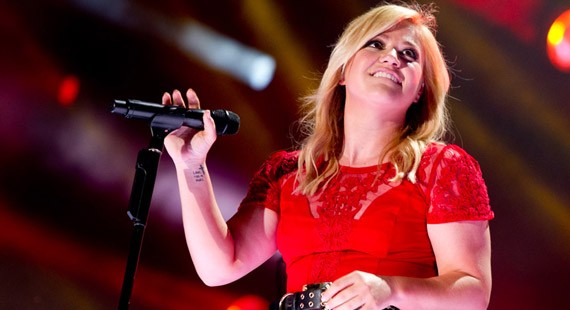 Mark Runyon | ConcertTour.org
Is imitation truly the sincerest form of flattery? In light of this week's ruling that Robin Thicke and Pharrell are guilty of violating Marvin Gaye's copyright, I bring you 20 instances in which artists were accused of being copycats. Not all of the examples below made it to the courtroom, but all have sparked heated debates as to the originality of the songs involved. You can be the judge.
Marvin Gaye vs. Robin Thicke and Pharrell
In case you have been living under a rock for a while, here is what went down. Marvin Gaye's family proclaimed "Blurred Lines" a rip-off of Gaye's 1977 hit "Got to Give It Up," causing Robin Thicke and Pharrell Williams to sue Gaye's family in an attempt to clear their names of any wrongdoing. Thicke and Williams claimed "Blurred Lines" was non-infringing and that the Gaye family was seeking to claim an entire genre of music. This initial suit caused the Gaye family to file their own, maintaining that "Blurred Lines" was an example of copyright infringement, along with Thicke's other song "Love After War" (it sounds similar to Gaye's "After the Dance"). On Tuesday, March 10th, 2015, a jury ruled that Thicke and Williams have to pay Marvin Gaye's children $7.4m, although it is expected that an appeals process may begin shortly. "Blurred Lines" sold more than 7.3m copies in the U.S. and earned a Grammy nomination. During the trial, Thicke admitted that he did not write a lot of the song, which turned the spotlight on Williams, who claimed to have written it in an hour. Thicke also testified that he was not around when the song was actually being written, despite prior press interviews where he claimed to have taken a larger part in the process. While Williams admitted Gaye was a musical influence on his career, he denied any intentions of plagiarism. The entire debacle has sparked a conversation about the difference between musical inspiration and outright plagiarism. We'll see if the duo pays out.
Joe Satriani vs. Coldplay
In 2009, guitarist Joe Satriani filed a lawsuit against Coldplay and Capitol Records claiming they copied his 2004 song "If I Could Fly" with their Grammy winning hit "Viva La Vida."  His copyright infringement case ended up being dismissed, and it has been rumored that the two parties must have come to an outside settlement.  Legally, Coldplay was not forced to admit any wrongdoing on their part, but they continued to come under scrutiny as other artists accused them of plagiarism. Cat Stevens asserted that Coldplay copied a song he wrote in 1973, saying, "There's been this argument about Coldplay stealing this melody from Joe Satriani. But, if you listen to it, it's mine! It's the 'Foreigner Suite,' it is!" While the Viva La Vida Or Death and All His Friends album was selling over 300,000 copies in three days, American band Creaky Boards was fuming. The band's singer/songwriter, Andrew Hoepfner, accused Coldplay of copying their track "The Songs I Didn't Write." Hoepfner even went so far as to claim that Chris Martin attended a Creaky Boards concert in New York: "We were flattered when we thought we saw Chris Martin in the crowd. He seemed pretty into it… Maybe too into it?" Coldplay's spokesperson responded, saying, "First, on the night in October when the band say Chris Martin was watching them, he was actually working at the Air Studio in London, and we can prove that. " Coldplay also asserted that "Viva la Vida" was written seven months before the Creaky Boards concert even took place. Despite the songs' melodies sounding alike, no legal action was ever taken.
Tom Petty vs. Sam Smith
Upon the April 2014 release of Sam Smith's hit "Stay With Me," many people began to draw similarities between the song and Tom Petty and the Heartbreaker's "Won't Back Down." The songs' melodies are almost identical, causing Petty's lawyers to reach out to Smith. Smith claimed he had never even heard the song "Won't Back Down" (what?!). A rep for Smith maintained that it was a "complete coincidence" and the artists handled the settlement out of court in October 2014. Petty insisted the whole ordeal was sorted out amicably, as he released the following statement:
About the Sam Smith thing. Let me say I have never had any hard feelings toward Sam. All my years of songwriting have shown me these things can happen. Most times you catch it before it gets out the studio door but in this case it got by. Sam's people were very understanding of our predicament and we easily came to an agreement. The word lawsuit was never even said and was never my intention. And no more was to be said about it. How it got out to the press is beyond Sam or myself. Sam did the right thing and I have thought no more about this. A musical accident no more no less. In these times we live in this is hardly news. I wish Sam all the best for his ongoing career.
In the end, Petty and Jeff Lynne were awarded a 12.5% writing credit on Smith's track. "Stay With Me" later went on to win Song of the Year and Record of the Year at the 2014 Grammy Awards. Many people noticed that Smith did not mention or thank Petty in his acceptance speech, causing a social media uproar. Prior to the awards ceremony, the Grammy Awards' Senior Vice President made it abundantly clear that Petty would not be receiving an award for the song:
Since Lynne and Petty didn't do any new writing for this work, we are considering their original work to have been interpolated by Napier, Phillips and Smith for 'Stay With Me,' Lynne and Petty will not be considered nominees nor will they be considered Grammy recipients, should the song win. Rather, they would be given certificates to honor their participation in the work, just as any other writers of sampled or interpolated work.
Petty seemed cool as a cucumber throughout the whole debacle, but that's probably because this is not the first time he has been through this scenario.
Tom Petty vs. Red Hot Chili Peppers
When the Red Hot Chili Peppers released their 2006 hit "Dani California," people immediately flocked to Tom Petty, letting him know the song sounded suspiciously like his infamous 1993 track "MaryJane's Last Dance." Dan Gaffney, a Delaware radio DJ, initially came across the similarity, saying, "The chord progression, the melody, the tempo, the key, the lyrical theme… they're identical." While media outlets reported that Petty was supposedly looking into taking legal action, he did no such thing, telling Rolling Stone, "If someone took my song note for note and stole it maliciously, then maybe [I'd sue]. But I don't believe in lawsuits much. I think there are enough frivolous lawsuits in this country without people fighting over pop songs." Looks like he didn't necessarily maintain this mentality when he heard Sam Smith's "Stay With Me," but you have to admire how laidback Petty is about it all.
Def Leppard vs. One Direction
I could have compiled an entire article of instances in which One Direction has been accused of plagiarism. The boy band has had run-ins with Def Leppard, The Who, and The Clash, among others. When One Direction released their 2013 album Midnight Memories, the title track sounded suspiciously like Def Leppard's 1987 hit "Pour Some Sugar on Me." The arena rock style of the track paired with its shouted chorus and identical chord progression is unmistakably identical to Def Leppard's song. Instead of becoming outraged by the blatant similarities, Def Leppard refused to take any legal action. When interviewed, Rick Allen (Def Leppard's iconic one-armed drummer), shrugged off the coincidence, saying, "Those three chords have been around for decades." He even went so far as to call One Direction's song "a huge compliment," as a younger generation of people will now be able to hear older influences in the song. "There is no point in taking any action," Allen continued, saying that doing so would only stir the pot and cause other bands to go after Def Leppard. In the end, the 1980s rockers played the plagiarism off, considering One Direction's song an innocent tribute.
The Who vs. One Direction
The opening riffs of One Direction's "Best Song Ever" are strikingly similar to The Who's classic "Baba O'Riley." When rumors began that The Who were seeking to have "Best Song Ever" removed from YouTube, One Directioners became outraged, starting a #donttouchbestsongever trending topic on Twitter. A social media battle between loyal Who fans and One Directioners ensued. When it was suspected that The Who would file a plagiarism lawsuit, Pete Townshend immediately shot down the allegations:
I like the single. I like One Direction. The chords I used and the chords they used are the same three chords we've all been using in basic pop music since Buddy Holly, Eddie Cochran, and Chuck Berry made it clear that fancy chords don't mean great music – not always. I'm still writing songs that sound like 'Baba O'Riley' – or I'm trying to!
Much like Def Leppard's Rick Allen, Pete Townshend was flattered by the likeness, saying, "I'm happy to think they may have been influenced a little bit by the Who. I'm just relieved they're not all wearing boiler suits and Doc Martens, or Union Jack jackets." Looks like 1D got away with it again!
The Clash vs. One Direction
Yet another debate spurred by social media. Angry music fans blasted One Direction for releasing their 2012 song "Live While We're Young" since it employs the same opening riffs used in the Clash's 1981 hit "Should I Stay or Should I Go." While none of the One Direction members had a direct hand in writing the song, they seemed very nonchalant about the plagiarism accusations in interviews. Band member Louis Tomlinson said, "I assume it must be quite difficult to do a unique riff now because there have been so many songs – surely there's only so many riffs you can pull out?" Harry Styles added to that, claiming, "It's kind of on purpose… It's a great riff."
The Chiffons vs. George Harrison
When George Harrison released his first solo single, "My Sweet Lord," on January 15, 1971, it went straight to #1 for five weeks. While most people were happy for his solo career's success, Bright Tunes Music Corp. was not, claiming that Harrison's single plagiarized the song "He's So Fine" recorded by the Chiffons in 1962. The following month, Bright Tunes filed a copyright infringement lawsuit against Harrison, Apple Records, BMI, and Hansen Publications. While the parties involved attempted to settle out of court for five years, the case finally went through in 1976. The judge ultimately ruled that Harrison was guilty of "subconscious plagiarism," meaning he had unknowingly copied the Chiffons' song, and he was forced to pay out $587,000.
Madonna vs. Lady Gaga
The 2011 release of Lady Gaga's single "Born This Way" immediately sparked controversy, as it sounds similar to Madonna's 1989 hit "Express Yourself." While Madonna seemed put-off by the comparison, she has given Lady Gaga the occasional compliment, simply saying she has a "good voice." No legal action was taken, but various interviews have shown Madonna's distaste toward the pop star. In this video from her MDNA tour, Madonna performed a mash-up of "Express Yourself" with "Born This Way", ending the performance by repeatedly singing, "She's not me!" Harsh, Madge. In interviews, Madonna has even referred to Lady Gaga as "reductive," or simplified and crude, but she often chose to be coldly vague when speaking about Gaga. I guess Madonna's opinion of Lady Gaga depends on the day. In a recent interview with Rolling Stone magazine, she cleared the air:
The only time I ever criticized Lady Gaga was when I felt like she blatantly ripped off one of my songs. It's got nothing to do with 'she's taking my crown' or 'she's in some space of mine.' She has her thing. I do think she's a very talented singer and songwriter. It was just that one issue.
Despite Madonna's remarks, Lady Gaga always took the high road, telling her fans, "It's not relevant to be bitter about equality." Both songs are sending a message of embracing and promoting equality, and Lady Gaga seems to think that fighting about the songs will only cloud their important message.
Queen & David Bowie vs. Vanilla Ice
In 1990, Vanilla Ice infamously came under scrutiny when he illegally sampled Queen and David Bowie's "Under Pressure" for his hit "Ice Ice Baby." The bass lines are nearly identical, and it was clearly sampled from Queen and Bowie. Vanilla Ice initially claimed that the two melodies were different because he added an extra note, but he later openly admitted to sampling the 1981 hit. Having released the song without consent or proper licensing, Vanilla Ice ultimately settled out of court for an undisclosed amount of money with Queen and Bowie receiving songwriting credits and royalties. You can't touch Queen and Bowie without paying the price, Ice.
The Kinks vs. The Doors
The Kinks' 1964 song "All Day and All of the Night" has an infectious rock guitar riff that gets stuck in your head. Apparently, it also got stuck in Jim Morrison's head. The Doors' 1968 hit "Hello, I Love You," happens to have the same exact riff as The Kinks' song, and a suspiciously similar chorus. When The Kinks filed a plagiarism suit against The Doors, the UK courts ruled in The Kinks' favor, forcing Jim Morrison and crew to pay royalties for borrowing their riff. The Kinks' Ray Davies reminisced about the whole debacle in a 2012 interview:
The funniest thing was when my publisher came to me on tour and said The Doors had used the riff for 'All Day and All of the Night' for 'Hello, I Love You.' I said rather than sue them, can we just get them to own up? My publisher said, 'They have, that's why we should sue them!' (laughs) Jim Morrison admitted it, which to me was the most important thing. The most important thing, actually, is to take (the idea) somewhere else.
Spirit vs. Led Zeppelin
In 2014, family members of the late Randy Craig Wolfe (A.K.A. "Randy California") from the rock group Spirit sued Led Zeppelin for stealing the introduction for "Stairway to Heaven." How could they make this claim against such an important piece of rock 'n' roll history, you ask? Listen for yourself. Wolfe's family believes Led Zeppelin lifted the song's opening instrumentals from Spirit's 1968 song "Taurus." Led Zeppelin's 1971 hit has earned millions, which likely spurred Randy California's family to seek compensation for alleged plagiarism and songwriting credit. Spirit and Led Zeppelin performed at several concerts together, making the entire debacle a bit messy since it can't be denied that the parties involved knew one another. Led Zeppelin's attorneys maintain that "Stairway to Heaven" is not stolen from "Taurus" and the case continues at length. Led Zeppelin isn't new to being accused of copyright infringement (they have had run-ins with Jake Holmes and Willie Dixon, among others), and they are tackling this case head-on.
Huey Lewis vs. Ray Parker Jr.
This is an interesting one. Producers of the 1984 movie Ghostbusters reached out to Huey Lewis asking him to write and record the movie's theme song. At the time, nobody realized what a huge success the film would turn out to be (there is even an all-female cast reboot coming soon!), but Lewis put a few ideas together. He ultimately declined the project, opting instead to work on his own album, Sports. Ray Parker Jr. happily took Lewis' place and created his own theme song. When Lewis later heard Parker's Ghostbusters song, he drew parallels to his own track, "I Want a New Drug." Lewis filed a copyright infringement lawsuit against Parker, but they ultimately "amicably" settled out of court, according to a statement released on behalf of Lewis and Parker. Years later, the tables turned when Parker sued Lewis for breaching their confidentiality agreement. Lewis spoke about the previous legal battle between them on VH1's Behind the Music, saying, "The offensive part was not so much that Ray Parker Jr. had ripped this song off, it was kind of symbolic of an industry that wants something – they wanted our wave, and they wanted to buy it." Upset by Lewis' breach of their secret settlement, Parker made his disappointment clear. We will never know what their out of court settlement entailed, unless Lewis decides to speak up again…
Creedence Clearwater Revival vs. John Fogerty
"The Old Man Down the Road"

"Run Through the Jungle"

After John Fogerty's departure from Creedence Clearwater Revival, he signed away all of his CCR royalties, moving on to write songs for his solo career. When he released the song "Zanz Can't Dance" in 1985, he was sued by his former band mate, Saul Zaentz, for defamation of character. While Zaentz was at it, he filed another lawsuit against Fogerty, claiming his solo track "The Old Man Down the Road" was a rip off of the CCR song "Run Through the Jungle." When Fogerty showed up to the hearing with his guitar, he played the two songs for the jury. They ultimately ruled that the songs only shared the same style, nothing more. To account for his legal fees, Fogerty sued Fantasy Records and won. It turns out you can't plagiarize yourself!
The Rolling Stones vs. The Verve
When The Verve was issued a license to use an orchestral sample from The Rolling Stone's 1965 track "The Last Time" for their 1998 song "Bittersweet Symphony," the band did not anticipate that a major lawsuit would be coming their way. "Bittersweet Symphony" instantly became a hit, and it was clear that The Verve violated their agreement by using a larger section of "The Last Time" than originally settled upon. They handled this dispute out of court, resulting in The Verve agreeing to pay 100% of their royalties to the Stones' former manager, Allen Klein. Klein managed the band from 1967 to 1970 and controls the songwriting copyrights to all of their songs written during this time. The Verve also gave Mick Jagger and Keith Richards songwriting credit on the track, despite the lyrics being entirely their own. To add insult to injury, another former Stones' manager, Andrew Loog Oldham, also sued The Verve over this song. Oldham claimed that he owns the orchestral recording they sampled, and he sought about $1.7 million in royalties. In essence, The Verve makes absolutely nothing off of this song, which is by far their biggest hit.
Bryan Pringle vs. The Black Eyed Peas
In 2010, Texas songwriter Bryan Pringle sued the Black Eyed Peas for copyright infringement, claiming the band ripped off his 1998 song "Take a Dive" when they released their hit "I Gotta Feeling" in 2009. Pringle aimed to collect all net profits received by the band, future royalties, and songwriting credit. He alleged that they stole a "dance version" of his song, but unfortunately for Pringle, he did not successfully copyright that version. Ultimately, he lost his case after the court found that the Black Eyed Peas had no access to Pringle's song and that the two tracks had no valid similarities. The court also suspected that Pringle destroyed evidence, specifically two hard drives that the Black Eyed Peas claimed proved that Pringle downloaded portions of "I Gotta Feeling" and added it into his original track. I gotta feeling that wasn't the outcome Pringle was after.
Chuck Berry vs. The Beach Boys
When the Beach Boys released their 1963 hit "Surfin' U.S.A.," Brian Wilson was listed as the sole songwriter on the track, much to the dismay of Chuck Berry. Berry threatened to sue the band, since their song is almost identical to his song "Sweet Little Sixteen." Eventually they came to an agreement, and Berry was given credit as a co-writer and capitalized on the song's royalties. Over the years, many artists have credited Berry with influencing their musical style, but the Beach Boys couldn't get away with this blatant rip off. Looks like Chuck Berry is an honorary Beach Boy after all.
Beyonce vs. Kelly Clarkson
As we learned from the John Fogerty vs. Creedence Clearwater Revival debacle, you cannot plagiarize yourself. With that said, Ryan Tedder (of the band OneRepublic) came under some scrutiny in 2009 for co-writing two very similar pop ballads for Kelly Clarkson and Beyonce Knowles. While Clarkson's "Already Gone" was being printed, Beyonce's "Halo" was released. Clarkson immediately heard the similarities, and she tried to prevent the single from being released. Clarkson lost this battle, and the track was released without her consent:
No one's gonna be sittin' at home, thinking 'Man, Ryan Tedder gave Beyonce and Kelly the same track to write to.' No, they're just gonna be saying I ripped someone off. I called Ryan and said, 'I don't understand. Why would you do that?
Tedder went on to release a statement, claiming Clarkson's accusations were "hurtful and absurd." He said, "They are two entirely different songs conceptually, melodically, and lyrically, and I would never try to dupe an artist such as Kelly Clarkson or Beyonce into recording over the same musical track." Beyonce was oddly quiet about the situation. Clarkson eventually seemed to come to terms with the whole incident, going on to perform the song with regularity. Occasionally she would mix "Halo" into "Already Gone" while performing live. Both songstresses received praise and ideal chart positions for these tracks, and rightfully so. While the two songs have different vocal melodies, the underlying music sounds suspiciously similar. When the two songs are played simultaneously, it sounds like sultry, buttery, magic.
Sara Bareilles vs. Katy Perry
Sara Bareilles released her song "Brave" in April 2013, and three months later Katy Perry released her comeback hit "Roar." Upon the release of the "Brave" music video, Perry posted a link to it with a caption that said, "I heart you @sarabareilles." While the two singers have distinctly different voices, the underlying music tracks share qualities that fans could not help but notice. When Bareilles' fans expressed outrage and accused Perry of plagiarism on Twitter, a social media storm began between the two fan bases, but the pop singers were quick to mitigate the issue. On the day "Roar" was released, Bareilles Tweeted a reminder to her fans: "All love, everybody. All love." Neither singer seemed phased by the comparison, and Bareilles cleared the air, saying, "Katy's a friend of mine and we've known each other a really long time, so she even texted me about it and we went back and forth." She continued to tell everyone to cut the drama, saying, "The shame that I feel that's happened is that it's become a drama. It's putting this negative spin on two artists that are choosing to share positive messages."
The Beatles vs. Sublime
The Beatles' 1968 single "Lady Madonna" reached #1 on the UK charts before debuting at #23 on the Billboard Hot 100. In 1996, alternative rock band Sublime released "What I Got" after their singer, Bradley Nowell, passed away of a heroin overdose. The track reached the mainstream Top 40 and reached #29 on the Billboard Hot 100 Airplay. While it has been widely argued that the songs sound alike, no legal action was ever taken. Both hit songs share a similar melody, which has spurred a debate: did Sublime rip off the Beatles?
(Dis)honorable Mentions
Lustra "Scotty Doesn't Know" vs. Hannah Montana "Rockstar"

Stevie Wonder "Uptight" vs. Oasis "Step Out"

Killing Joke "Eighties" vs. Nirvana "Come As You Are"

Iggy Pop "Lust for Life" vs. Jet "Are You Gonna Be My Girl"

Tom Petty and the Heartbreakers "American Girl" vs. The Strokes "Last Nite"

Around the Web