5 Megastars Whose Career Started as a Backup Singer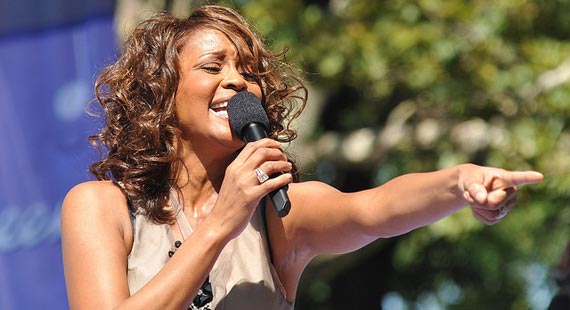 Started at the bottom, now they're here. There are more artists than I can count on both hands that started out in the background of the music industry, whether as backing dancers, jobbing studio musicians, or acting as a sarcastic secretary with a heart of gold for a record company (wait, that's my secret sitcom plan, forget I said anything). Even in an era of skip-the-first-five-years talent shows, working your way up from the bottom is a route that even the biggest stars have chosen. And hey, it makes a great biopic, right? Let's explore some of the biggest names who know what the bottom rung of the ladder looks like.
1. Whitney Houston
The late, great heroine of all things ballad and belt had humble beginnings. After learning how to sing and play piano in church, the fourteen-year-old Houston would travel round nightclubs where her mother was performing, occasionally joining her on stage. Her first taste of the professional music industry came in her early teens when she provided backing vocals for Michael Zager Band's Life's A Party. This started the ball rolling on a bunch of singles for which Whitney would lend her talents to, with everyone from Lou Rawls to Jermaine Jackson employing her vocals. Chaka Khan's single "I'm Every Woman," which Houston would later go on to turn into a smash-hit single with the legendary Bodyguard soundtrack, actually featured a teenaged Whitney on backing vocals. Starting work as a model in the early 1980s, she continued to work at her music, earning praise for a memorable turn on "Memories" by Hugh Hopper. It all came full circle in 1983 when an Arista representative spotted her performing with her mother in a nightclub, and, within months, she was synonymous with the pop ballad.
2. Mariah Carey
You've likely heard Carey's big discovery story being compared to a fairytale, and I hate to say it (mainly because of "All I Want for Christmas Is You") but that's pretty much true. After jamming with some friends throughout senior year and being met with rejection every time she went to hand over a demo tape to label reps, Carey met Brenda K. Starr. Starr took a liking to the upstart warbler and took her under her wing. Mariah worked as a backing singer and dancer for Starr for a while, until her pop-crossover guardian angel Brenda took her to an industry event and handed over a demo to Tommy Mottola. Tommy went home, listened to two songs, and jumped back in the car to sign Carey there and then. Glass slipper and pumpkin coach unconfirmed.
3. Elton John
There are bands that solely exist to provide backing tracks to other performers. And while you might imagine that would drive you a little bit insane, Elton John would probably beg to differ. Though back in the early sixties, you'd probably only have known him as "Reggie", the kid who played piano standards down the pub during the week. By 1964, he'd joined up with Bluesology, a touring band who provided backing tracks for a bunch of big live acts including Patti LaBelle and The Illsley Brothers. In between touring around the country, he played piano in the studio for a bunch of notable artists, most memorably for The Hollies' "He Ain't Heavy, He's My Brother."
4. Gwen Stefani
Everyone loves an artist who doesn't forget their roots and (The Voice aside) we all have to admit to nodding appreciatively when Gwen Stefani decided to get back together with No Doubt. The band has a somewhat difficult history, with original lead singer John Spence committing suicide just weeks before a performance for big industry names. Stefani was providing backing vocals for the ska-pop group, and struggled as grunge took hold in the early nineties and everyone, well, doubted. Stefani eventually stepped up to the front spot, and the band eventually broke through as their leading lady rejected the super-aggressive female grunge thing in favour of Debbie Harry-in-crop-tops. Industry reps spotted her rabid fans and cool sound, and Stefani proved the name of her band to be accurate.
5. Cher
Yes, the queen of grand hair and high camp started out as a backing singer at the very start of her career. She dropped out of school at sixteen and chased down her dreams of stardom on the Sunset Strip, apparently unafraid to get the most out of anyone who she thought would get her started. After she met, moved in with, and became housekeeper to some guy called Sonny, she carried out work as a jobbing singer. Sonny introduced Cher to Phil Spector and Spector proceeded to use her vocal talents on a bunch of prestigious recordings, including "You've Lost that Lovin' Feeling" and "Be My Baby." After a false start as Caesar and Cleo in 1964 (releasing unforgettable hits like "Love is Strange"), Sonny and Cher emerged as superstars of the music world by the end of the year. And the best part? He only joined her on stage because she was too nervous to perform by herself.
Around the Web