8 Best Paul McCartney Collaborations Over the Years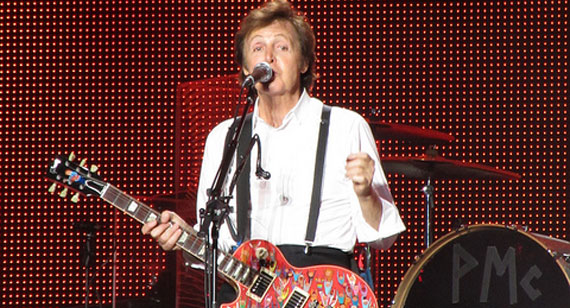 From Johnny Cash to Stevie Wonder to Tony Bennett, Paul McCartney has teamed up with some of the world's most iconic singers and musicians during his 40+-year solo career. And while 1999's collaboration with his now ex-wife Heather Mills and of course his duet with the Frog Chorus suggests he sometimes needs to be a bit more selective with regards to who he works with, his guest star hook-ups usually reap more positive rewards. Here's a look at eight of the best.
Come Together with The Smokin' Mojo Filters
The whole Britpop scene that defined the mid-90s was completely indebted to The Beatles, so it was only right that McCartney was invited to appear alongside some of the era's most prominent players for this 1995 cover version of "Come Together." Recorded for the War Child project, this faithful rendition of one of Abbey Road's most famous numbers featured the likes of Paul Weller, Noel Gallagher, Ocean Colour Scene's Steve Cradock and soul singer Carleen Anderson, but it was McCartney's impassioned backing vocals which almost stole the show under the noses of the generation he inspired.
Heal The Pain with George Michael
Originally appearing on 1991's Listen Without Prejudice, Vol. 1, the summery acoustic balladry of George Michael's "Heal The Pain" had always been noted for its similarity to the Merseybeat sound of the 60s. Fully embracing the comparison, Michael then invited McCartney to give the track an even more authentic Beatles vibe by lending his carefree tones to this charming new version recorded for his 2006 compilation, Twenty Five.
Say Say Say with Michael Jackson
Despite reaching No.2 on the Billboard Hot 100 and kick-starting the success of one of the biggest albums of all time, McCartney's first meeting with The King Of Pop, "The Girl Is Mine," had been something of a damp squib. Luckily their second release together proved their partnership didn't always have to produce such underwhelming results. Produced by George Martin for his eighth solo album, Pipes Of Peace, the infectious funk-pop of "Say Say Say" is arguably one of the most immediate singles of his career.
A Friend Like You with Brian Wilson
Obviously in a Beatles frame of mind, Beach Boys' eccentric Brian Wilson not only roped in McCartney for his 2004 comeback album, Gettin' In Over My Head, but also hired Sergeant Pepper's Lonely Hearts Club Band artist Peter Blake to design the cover. Nothing on the actual record came close to matching the genius of the 1967 classic, but this charming, if slightly saccharine, self-confessed love-letter to McCartney himself was undoubtedly the highlight.
My Soul with Nitin Sawhney
Returning the favour after the British-Indian composer produced several remixes for his The Firemen side project, McCartney delivered one of his most captivating performances on "My Soul," the standout from Nitin Sawhney's critically-acclaimed concept album response to the 7/7 terror attacks, London Undersound. McCartney has rarely sounded as vulnerable as he does on the Bollywood-tinged trip-hop tale of heartbreak which slowly builds up into a soaring driving rock finale.
You Want Her Too with Elvis Costello
A more acerbic, bitter and witty alternative to "The Girl Is Mine," "You Want Her Too" sees McCartney and Elvis Costello trade insults ("so why don't you come right out and say it stupid") over the shared object of their affections against a melodic blues-rock backdrop which suggested the new wave veteran should have taken the helm for more than just four tracks on 1989's return to form, Flowers In The Dirt.
Bring It On Home To Me with Al Jarreau & George Benson
The closing number from Al Jarreau and George Benson's 2006 collaborative effort, Givin' It Up, this faithful rendition of Sam Cooke's 1962 soul standard, "Bring It On Home To Me," is little more than a particularly star-studded jam session, but it's an enjoyable listen which sees all three artists let loose as it builds up to its Hammond organ-driven funk finale.
Scrambled Eggs with Jimmy Fallon
"We All Stand Together" confirmed that McCartney doesn't always take himself so seriously, but this amusing reworking of Beatles classic "Yesterday" with talk show host Jimmy Fallon put his sense of humour to better use. Taken from the comedian's 2012 album, Blow Your Pants Off, the references to waffle fries and kick-ass wings were obviously newly-penned, but the "scrambled eggs/oh my baby how I love your legs" couplet did in fact feature in the 1965's original lyrics until McCartney thought of something more suitable.
View "Scrambled Eggs" on YouTube
Around the Web