9 Cover Songs That Were More Successful Than the Original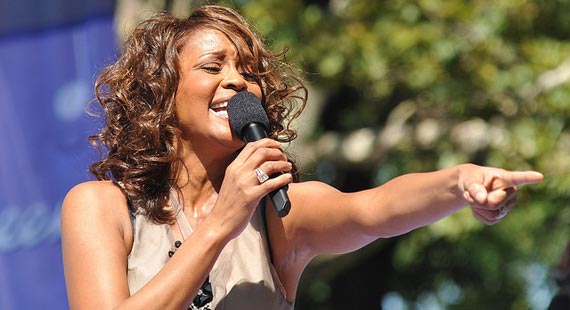 Sometimes, a song just won't turn out right the first go around. And that's where covers come into their own: when a certain song just doesn't live up to all it's potential its first turn up to bat, another artist will leap in with their interpretation and turn it up to the proverbial eleven. So which covers were the greatest? Who outdid the unique? And who cast their original into shadow? Read on…
1. The Tide Is High
While your mind might immediately leap to the asinine Atomic Kitten version that clogged up most of my grade school discos, the Blondie version — which is sensational, if claimant to the weirdest video ever — was a cover in and of itself. The original was written and performed by John Holt with his band The Paragons in 1967, but never really cracked the mainstream market until Debbie Harry and company lent their talents to the track years later in 1980.
2. I Will Always Love You
Before Whitney Houston ever got her hands on it, Dolly Parton made a substantial mark with this now-iconic number. Parton put the song at the top of the Billboard Country charts two separate times as the second single from her 1974 album Jolene. But it wasn't until 1992 when Whitney Houston recorded a version for the mediocre movie The Bodyguard that it was cemented in musical history, landing a spot as one of the highest-selling singles of all time.
3. Try a Little Tenderness
While the song had been left almost entirely to the annals of history by the time Otis Reading came along, "Try a Little Tenderness" had been a minor hit for Bing Crosby back in 1932. It's first iteration was a crooning love song — but when Otis Reading came along, it's hard to remember anyone else came near it. He ratcheted it up to the power of twenty and landed one of the biggest hits of his career, eclipsing poor Bing's original version.
3. Hallelujah
Seriously, how many people have covered this song? Whether it was Alexandra Burke belting out her talent-show single version or John Cale's stripped back number, everyone who's anyone has covered the Leonard Cohen classic. The most popular? No question; Jeff Buckley takes it by a mile. Buckley's aching melody was heartfelt and beautifully crafted, a defining moment in the tragic star's career. Most contemporaries are covering Buckley's classic rendition instead of Cohen's understated original.
4. Jump Into The Fire
Harry Nillson rocked the airwaves back in 1971 with this beltingly fun rock song, and he has LCD Soundsystem to thank for bringing it to a modern audience. Their 2005 release of this number did a great job in tingeing it with their psychedelic, attitude-laden sound while holding on to the original energy and sense of fun. As faithful in feeling a it was possible to be, and one of the best original-cover combinations on this list.
5. I Fought The Law
The classic Clash hit sums up their oeuvre as well as any song ever could — it's catchy, simple, and packed full of a potent message that shoots on all cylinders. What most people don't know was that "I Fought The Law" was actually written by Sonny Curtis in 1959 after he replaced the late Buddy Holly in The Crickets. The band heard the song in 1978 when they were working on new album Give 'Em Enough Rope, and the rest is history.
6. Hurt
What list of covers would be complete without a nod to this, the genesis of all unlikely covers? Trent Reznor and NIN gained modest success with their version of the song, but it wasn't until Johnny Cash released the Grammy-winning cover in 2003 — almost a decade later — that everyone sat up and took notice of the understated gem. A rich cover that's sold by Cash's amazing vocals and ability to infuse anything with a sense of melancholy, it trounces Nine Inch Nails with ease.
7. The Man Who Sold the World
When it comes to picking out appropriate songs to cover, this one has pretty much stolen the title. Kurt Cobain famously strummed his guitar to the David Bowie number about feeling as if you had given up your integrity for money and popularity — and we all know how that story ended. Deservedly considered one of Cobain's finest numbers, it's a totally different spin of the psychedelia of Bowie's starry-eyed version.
8. Torn
Phil Thornalley, Anne Preven, and Scott Cutler — better known as members of the alternative rock band Ednaswap — were the real voices behind Natalie Imbruglia's huge 1997 hit. While Ednaswap never gained commercial success and eventually disbanded just before the turn of the century, Thornalley did produce this Imbruglia's wildly successful version, which sold more than four million copies and remains her most successful hit ever.
9. Please Mr Postman
This is another song that seems to have been through the wringer when it comes to cover versions — it was a big hit for The Carpenters, and most people assumed that it was The Beatles who'd penned the original. In fact, it was the motown girl band The Marvelettes who first pushed it into notoriety in 1961. In fact, they're credited with one of the first ever Motown number one hits in the form of "Please Mr Postman."
Around the Web