Best Justin Timberlake Collaborations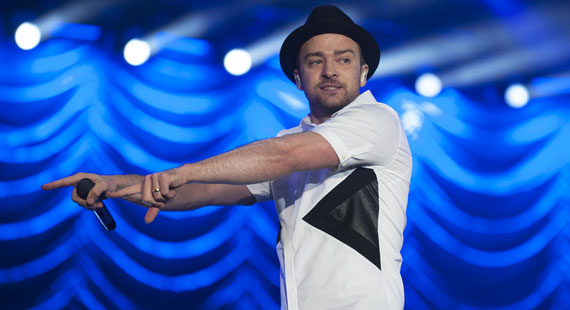 Antonio Scorza / Shutterstock
After spending every waking hour with four other vocalists during his seven-year stint in 'N Sync, you'd have expected Justin Timberlake to enjoy a bit more alone time. But ever since the band split in 2002, he's continued to combine his solo career alongside collaborations with some of the world's biggest pop & R&B stars. Here's a look at seven of his best duets.
"Signs" with Snoop Dogg
Focusing solely on the falsetto which he'd showcased intermittently throughout Justified, Timberlake brought the kind of huge pop sensibility that had previously been lacking in Snoop Dogg's stoner hip-hop output to immediately rewarding effect on 2005 single, "Signs." Pharrell Williams and Chad Hugo's production was as expertly funky as ever, while Charlie Wilson's middle-eight added to the whole old-school feel. But it was the interplay between two artists, who just a few years earlier would have been unimaginable collaborators, that made this third single from Snoop's R&G (Rhythm & Gangsta) the most infectious of his career.
"D*** In A Box" with The Lonely Island
Timberlake has recently become one of the few Saturday Night Live hosts to join the exclusive five-timers club. But it was his second stint on the iconic comedy show which proved that his sense of humor is as sharp as his suits thanks to this inspired parody. A collaboration with comedy troupe, The Lonely Island, "D*** In A Box" cleverly manages to work as both a hilarious pastiche about a man's unusual Christmas gift to his girlfriend and an affectionate homage to the R&B of the late 80s/early 90s.
"4 Minutes" with Madonna
Timberlake's status was so stratospheric by 2008 that even the Queen of Pop recruited him for the lead single to her eleventh studio album, Hard Candy. Featuring Timbaland's signature staccato beats and bombastic horns, "4 Minutes" disappointed many Madonna fans who felt that she'd been relegated to guest artist on her own record. That may be true, but regardless of who deserved star billing, the 2008 single is one of the funkiest apocalyptic countdowns you're ever likely to hear.
"Hallelujah" with Matt Morris and Charlie Sexton
Bravely taking on the Leonard Cohen classic, Justin Timberlake went onto deliver one of the most emotive versions when he teamed up with his former Mickey Mouse Club colleague Matt Morris and former Bob Dylan guitarist Charlie Sexton in aid of the 2010 Hope For Haiti telethon.
"Love Sex Magic" with Ciara
You have to feel a bit sorry for Jessica Biel if she ever clapped eyes on the video to Timberlake's musical hook-up with Ciara considering the sexual chemistry between them was off the roof. The track itself, taken from Ciara's 2009 LP, Fantasy Ride, was just as supremely sensual, even if it did sound like an out-take from FutureSex/LoveSounds. Indeed, despite collaborations with the likes of Beyonce, Janet Jackson and Rihanna, "Love Sex Magic" is by far his steamiest and most convincing romantic duet.
"Give It To Me" with Timbaland and Nelly Furtado
The beginning of his journey from behind the production desk to chart star in his own right, "Give It To Me" couldn't have been more Timbaland-by-numbers if he'd tried. But while the UK number one single might not have won any awards for originality, its effortless swagger is still mightily impressive. While after two albums worth of songs about love, it was a refreshing change to hear Timberlake with a bit more venom as he dismisses an un-named chart rival with boasts about the success of "SexyBack."
"Dead and Gone" with T.I.
Timberlake's apparent desire to affiliate himself with the hip-hop scene has rarely worked out. In fact his guest spots on records by Nelly ("Work It"), 50 Cent ("Ayo Technology") and The Game ("Ain't No Doubt About It") are arguably three of the poorest singles of his career. But having already worked with T.I. on his own 2006 chart-topper, "My Love," Timberlake appeared a lot more comfortable when he returned the favour on the rapper's 2009 hit, "Dead and Gone," a surprisingly heartfelt reflection on the death of T.I.'s best friend and former bodyguard.
Around the Web