What Can We Expect From the Jay Z, Beyonce Stadium Tour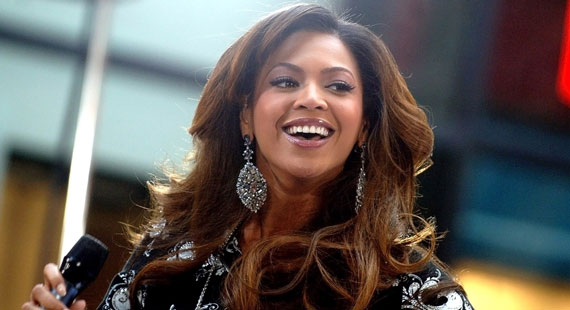 Everett Collection / Shutterstock
The perfect power couple of popular music, Jay-Z and Beyonce, recently announced the ultimate blend of money-spinner and artistic endeavor: a joint tour, "On the Run," named after their later collaboration on her last album. Between Beyonce dropping a surprise new album last year and Jay-Z's huge success with his joint tour with Kanye West in 2011, it's fair to expect quite a lot from the eighteen-date tour. Both of them are known for loving some big production values (see: Mrs Carter World Tour) and a real sense of spectacle. The modern man who defined hip-hop combined with the woman who's very name would become synonymous with R&B have finally graced us with what we always wanted (no, not their baby). But what exactly should we be looking forward to in the summer tour to end all summer tours?
1. The Music
Quite frankly, the couple haven't got enough duets under their belt to justify a whole tour dedicated to just a few rehashes from their various collaborations. So it's probably fair to expect both of them to take on quite a bit of solo stage time. Beyonce will likely be giving her latest album a good live airing, while Jay-Z will still be flogging a lot of stuff from Magna Carter Holy Grail as well as digging up a few classics. When it does come to their collaborations, I think I'd be most keen to hear the likes of "Drunk in Love" and "Crazy in Love" as a nice bookend to all the work they've done together. And c'mon, if they don't produce a live cover of that awesome debut duet then the tickets aren't worth the damn paper they're printed on. I think everyone would be pretty psyched if they wound up mashing up some of their individual hits, too. And it's worth considering the notion that they might debut some brand-new duets on tour too — after Bey dropped an entire album without mentioning it to anyone, who's to say that they're not going greet fans with some brand new collabs? Oh the possibilities.
2. Other Artists
Although whenever Jay-Z and Beyonce get together they have a habit of shoving any less solar entities into the background, there's a chance that we'll also be treated to a fly-by by the numerous artists who've guested on their various tracks in the past too. That means we're looking at potential appearances by artists like R. Kelly, Kanye West, Missy Elliot and Sean Paul, amongst a host of others. Solange Knowles also joined her sister on stage for a dance routine at Glastonbury, but after her recent elevator dust up with hubby I wouldn't hold my breathe on that one. Maybe even Blue Ivy, after she became the youngest person ever to break the Billboard Hot 100 after the infant featured on one of her father's songs, "Blue?" That said, some fans have been pretty clear that they want this whole thing to focus on the headline stars, so we'll have to play this one by ear.
3. The Attitude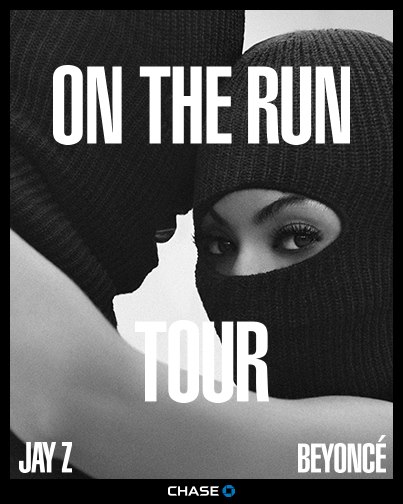 The title of the tour, "On The Run," suggests that there's going to be more than a hint of naughtiness about the proceedings. When you consider how Beyonce has slowly molded her image into that of a deviant, sexy, strident feminist with more talent than cash, and how her husband's last album featured a whole lot of criminality, it seems likely this might act as a bit of a throwback to their first collaboration, "Bonnie & Clyde." See: the poster for the tour, which features them done up in balaclavas. Both artists — especially Beyonce — have touched on a darker, more grown-up feeling in their newer albums, so we might be privy to something a bit heavier, but hopefully retaining the glitz and glamor everyone expects from an event such as this.
4. The Tickets
With new tour dates seemingly being announced every other day, tickets are being snapped up faster than anyone could have anticipated, with some international fans leaving the second half of their summer free on the off-chance the duo will announce dates near them. Ticket prices go from a reasonable $52 to a jaw-dropping $270, so it's real a business for the superfans alone, with tickets selling out in minutes. And guys? Please, please, please book in some UK dates. For me.
So, those are our predictions for the "On the Run" tour. Is there anything you're particularly looking forward to? Or anything you're praying they're going to avoid? Worth thinking about as you refresh the ticket page and hope for your confirmation…
The "On the Run" tour starts in June and runs through till August, with shows across America and Canada.
Around the Web