CMA Festival Review: Zac Brown, Taylor Swift, Eric Church, Miranda Lambert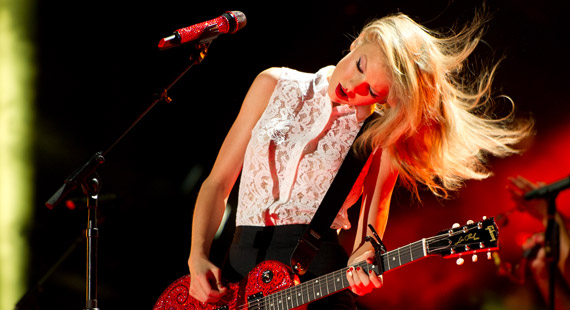 Mark Runyon | ConcertTour.org
When I was assembling the title for this article, I had the unenviable task of figuring out which artists to leave out. Country sensation Luke Bryan and Tracy Lawrence drew the short straws. From top to bottom, this was the strongest one day festival bill I've ever seen, and that's not counting all the surprise special guests who magically popped up out of nowhere. All this excitement and we are still on day one of the CMA Music Festival. Wow.
You could call this country music week in Nashville. Last night, the industry came together to celebrate the year that was through one of country music's biggest nights — the CMT Awards. Over the next four day strech, country's best and brightest all synch up their schedules to come together in a celebration of the fans. Nashville is just brimming with cowboy hats and rodeo rowdiness this time of year. The CMA Festival dates back to 1972 when it was simply known as Fan Fair. 5000 people attended the original Fan Fair and that populous has swelled to over 250,000 in the decades since.
There was a host of activities to keep the fans occupied this afternoon from a Q&A session with Lady Antebellum to Sara Evans entertaining the crowd in the midday heat. You could say this was the SXSW for the country music community except for the fact that South By seems to loathe the fans while CMA embraces them like a long lost teddy bear.
LP Field, home to the Tennessee Titans, hosted the nightly concert slate. The gates opened at 6:30 with the music of Thomas Rhett on the promenade, welcoming the fans to the party. To underline how ridiculous this line-up is, the Oak Ridge Boys came out on stage at 7:30 to sing the national anthem. That's it. They were done for the night. The festival organizers had stacked the bands in 30 minute blocks. That's not 30 minute to perform then another 30 to ready the stage for the next band – 30 minutes total. Again what other festival could convince a marquee artist to sign on for this? "I know you are used to selling out arenas and playing two hour sets, but we've only got 30 minutes for you – oh and you'll be playing in the four spot." That is the power of CMA.
Tracy Lawrence opened the evening as the sold out crowd found their seats along the Nashville skyline. He said he'd been playing the CMA in some form or fashion for twenty-two years. Lawrence added the history largely absent from the evening's crop of new generation country artists.
Luke Bryan is a meteor on the rise in the country scene. He's piling up the awards at breakneck pace and selling out arenas as if his name were Kenny Chesney. It's easy to see why. He's got a manic energy on stage, darting around like he just chugged a case of Red Bull. He played tracks like "Drunk on You" and "I Don't Want This Night to End." On the later, he even channeled his inner-Taio Cruz with a mashup of "Dynamite."
The three story video board couldn't help but stare at his giant gyrating pelvis. It was the type of grind that would have made Elvis proud and the ladies weak in the knees. Giving his love to the ladies seemed the constant cord running through his set as he pulled ten lucky young women onto the stage ready to shower him with lovin' and for gobs of cell phone photos in return. He may have been the evening's opener, but Luke Bryan is putting the country world on notice that he'll be headlining this event soon; very soon.
Ah, country's favorite sweetheart that shares the dubious distinction of not really being country anymore. Taylor Swift is churning out pop hits like they are rolling off a factory line. She may have gotten her start as a country darling, but the cross over artist has officially crossed. She brought to CMA her catalog of hits from "Mean" and "Red" to "We Are Never (Ever Ever) Getting Back Together" and "Tim Mcgraw." Did I happen to mention Tim McGraw because one of country music's modern fixtures just happened to show up to give Taylor the assist on his namesake song. If that weren't enough to spark excitement in the feverous crowd, Saturday's headliner Keith Urban showed up to wail away on the guitar alongside Swift and McGraw.
In her sexy short shorts (think tasteful hot, not Britney Spears slutty), Taylor preened like she was posing for a Revlon commercial when she manned the microphone. She dug into the chords when the electric guitar was strapped in and even plucked her way through "Mean" on the banjo. In her live show, Swift wants you to know she is more than just a pretty face and the girl next door on steroids. She is a joy to watch live. She's cultivated a magnetic stage presence over the years, infusing it with her considerable talent. While I'd never want to be one of her ex-boyfriends, she can sing me to sleep any night.
Eric Church followed Taylor with his Solo cup of Jack Daniels in hand as this sudden beach ball bonanza broke out in the crowd. While the inflated rainbows launched from hand to hand, Church unwrapped tracks like "Smoke a Little Smoke" and "Homeboy." During one of his swigs of Jack, he mused that sometimes he kicked the drink's ass and sometimes it kicked his. A song later, as he removed his boot to hold it up during "These Boots," I wondered if one of those nights that Jack did the kicking, did he drinking from his boot? While Church is a fine performer, I wish he would be a bit more energized on stage. He largely sits transfixed at the microphone, doing the occasional erratic kick or whips out a Rocky fist punch from time to time. For the other end of the spectrum, see Luke Bryan.
Since she followed him on stage, I can't help but wonder if Eric Church ever made nice with Miranda Lambert after his "reality TV musicians are hacks" comment to Rolling Stone this time last year. I certainly hope so since its sad to think about fractures splitting the country music fraternity.
Fresh off bringing down the house at the Oklahoma tornado benefit concert, Miranda Lambert hit the stage with a rhinestone guitar strap and pink capo. Don't let that fishing honeymoon fool you into thinking that she isn't a girly girl through and through. She further reinforced her femininity with black bustier and leather pants.
Lambert played tracks like "All Kinds of Kinds" and "Over You." She thanked the CMA faithful for making "White Liar" her first number one single and even got a bit nostalgic when she looked out over the crowd saying, "that used to be me in the twelfth row not that long ago." Hopefully, country music's next budding sensation took this comment to heart. Anything is possibly in music's magical city.
It was hard to know if the Zac Brown Band was here to cap off Thursday's CMA festivities or plug their upcoming Southern Grounds Festival, taking place in Nashville in September. It was mentioned a few times, but we'll give them the benefit of the doubt instead of branding them as hucksters.
Zac Brown and company kicked things off with "Chicken Fried." The crowd squealed in delight at the down home favorite. Zac Brown Band are the adoptive sons of Nashville by way of Atlanta. They continued to thrill the crowd, playing hits like "Keep Me In Mind," but ultimately their time on stage was overshadowed by those who shared it with them. There had been a not-so-secret rumor spreading around that Zac Brown would have a special guest joining them for their set. About midway through, they called on Kenny Rogers to come out for a duet of the "Gambler." Rogers sounded great belting out the country classic. As soon as the last note had faded, he shook a few hands and gave his love to the crowd before exiting stage right.
If you thought Zac Brown Band were content to play out the rest of their songs without ensuing fanfare, you would be wrong. They closed the evening with a cover of Grand Funk Railroad's "We're an American Band" with none other than Kid Rock. That is the great thing about Nashville. Since its such a Mecca for music artists, you can call up any number of stars and just say "hey we're playing CMA tonight. Want to stop by and play a few?" As long as they aren't catching up on Game of Thrones, they'll probably respond by saying, "why not." Half of me kind of expected John Mayer to be the surprise guest or somebody completely unexpected like Jack White.
Day one of the CMA Fest surpassed expectations in every possible way. I knew the top echelon of country's fireworks would be on display, but I didn't know they throw some gasoline on the thing for good measure. The bands truly got the purpose of this event – to give back to the fans who made them the success they have become. Over and over again, you heard these stars thanking the fans for buying the albums, calling the radio stations and coming out to the concerts. This event is for the fans, and it's a refreshing thing to witness in this fame and fortune driven music industry.
Well we don't know if anything can top what we saw today, but we are excited to see what CMA has up its sleeve for the remainder of the long weekend. Tomorrow, we bring you Blake Shelton, Lady Antebellum, Little Big Town and much more as the CMA Music Festival marches on. Check in with us all weekend as we report live from Nashville.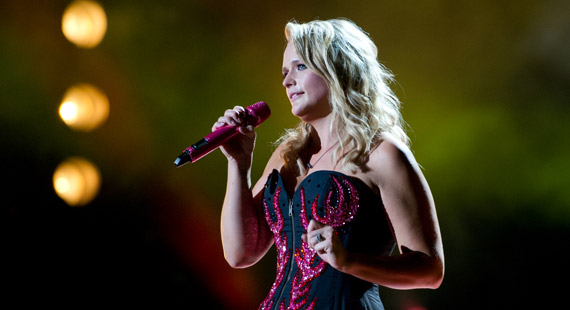 Around the Web