CMA Rain Edition: Brad Paisley, Carrie Underwood, Jake Owen, The Band Perry
All good things must come to an end. We are closing out our final day at CMA Music Festival on a sizable down note. We were supposed to be treated to full sets by Carrie Underwood, Brad Paisley, The Band Perry and Jake Owen tonight, but we got two song sets with a side of disappointment. There were a band of showers bearing down on Nashville, but per the Weather Channel they weren't due to hit the area until midnight or possibly later. I'd been watching the forecast earlier in the day and that timeframe progressively kept getting pushed later from 8pm until past 2am. The showers still haven't arrived in the city as I write this a couple hours after leaving LP Field.
The crowd was noticeably thinner on Sunday. I'm sure a large segment of the CMA populous used Sunday as a travel day, getting back home so they could return to work Monday morning bright eyed and bushy tailed. Maybe some people were worried about the potential storms. Regardless, the stands, which seemed beyond sold out all weekend, were blanketed in empty seats throughout.
Pam Tillis and Lorrie Morgan performed the national anthem to start the evening, and I have to say it was the best opening performance of the weekend. Keeping with the patriotic theme, Lee Greenwood took the stage next. Greenwood is perhaps best known for his patriotic anthem "God Bless the U.S.A." Released in 1984 and resurrected after the September 11 attacks, it is one of our country's unofficial national anthems. When he performed the seminal track at CMA everyone was on their feet, hats off and staring at the red, white and blue light spectacular evolving on stage.
Gary Allan hit the stage with that trademark intensity saddled in his eyes. He opened the evening with "Watching Airplanes." He did a little future gazing when he queued up the song "Every Storm (Runs Out of Rain)." I'm not sure what it is about Allan, but his music has never grabbed me. Its affable enough, but not something I ever seek out. His live show definitely connected with me more, but ultimately it was just more of the same.
Things were going pretty smoothly until Brad Paisley took the stage. Paisley's set started out great. Charlie Daniels made an unannounced visit, coming out to lay down a little fiddle work on Paisley's opening song "Karate." Midway through, a little snippet of "Devil Came Down to Georgia" slipped out of Daniel's fiddle. It's Charlie Daniels; what did you expect? Daniels left the stage as Brad Paisley launched into "Beat This Summer."
The crowd was jamming, Paisley had fallen deep into the groove and all of CMA was ready for him to flex his musical catalog a little. Next, we heard the perplexing words "Thank you and good night," as Paisley exited the stage. "Two songs? What the hell?," seemed to be collective sentiment of everyone around me. Brad Paisley was one of the main draws for the Sunday night bill so it was pretty unthinkable he'd only play a pair. Word began circulating that all the artist's sets would be whittled down to the barest of minimums to get everyone out of LP Field before the storms descended. Mind you, not a droplet had fallen at this point and wasn't expected to for many hours to come.
The pint sized girls from Nashville, Lennon and Maisy Stella, came out to perform The Lumineers's signature tune "Hey Ho." I'm not a fan of the show so I'm sure this moment was lost on me. The duo was cute, but when you are cutting country superstars down to two songs or fewer do we really have time for cute?
The Band Perry came out ready to leave it all on the stage. I think their theory was, if we only get to perform two songs we're going burn this place down to give the rain a reason for coming. The band of siblings opened their segment of the evening with "Done." For those who haven't had the pleasure, Kimberly Perry is a sparkplug. She was dancing, clapping and just couldn't sit still for an instant, dress flowing in the wind. The Band Perry followed up "Done" with "Better Dig Two," building off this infectious energy. Of all of the bands who were cut short on Sunday, I was the most disappointed to have missed out on The Band Perry. These guys really got me charged up and left me wanting. I guess I'll have to tag them on my concert calendar next time they come 'round Atlanta.
Jake Owen is where the real fun began. As I said each band's setlist was trimmed down to two songs – except for Jake Owen. The CMA organizers inexplicably cut him back to one. To his credit, he came out from the wings smiling and giving it his all on his hit single "Anywhere With You." As the song came to a close, he came down to the photo corral and raised his guitar up to his fans. Seconds later, he tossed it up in the air only to watch it crash down to the stage. Smile or no, Jake was pissed he only got to perform one song for his legion of CMA fans. It took much longer to setup the stage for him to perform than for him to actually play that solitary track. This was the biggest flub of the evening on the part of the organizers. There was plenty of time before the storms rolled in to at least afford Jake two songs. Another feasible option would have been to go ahead and setup Carrie Underwood's stage at the rear during Jake's set so it could have been quickly moved into place.
Regardless, the crowd was about as happy as Jake was. Merciless boos rained down and chants of "We want Jake" echoed throughout LP Field. The fan experience was taking a savage hit by the second. It didn't help matters when announcer Storme (oh the irony) said that Carrie Underwood wouldn't be confined to just two songs. Many in the audience instantly placed the blame on Carrie for Jake's untimely disappearing act. Of course, it was completely unfair to blame Underwood for the cuts, Jake Owen even tweeted so after the fact. It just didn't look good to the casual observer that she got to perform four songs while the remainder of the artists were on hunger strike.
Carrie came out dressed like a sexy Indian. I didn't really get how her outfit related to the performance, but who am I to baulk at Carrie Underwood dressed as a sexy anything? She started her set with "See You Again." She put a lot of emotion and power into the song as the verse trickled out of her.
The coolest moment of the evening was her cover of Guns 'N Roses "Paradise City." If you would have asked me beforehand to guess which cover Carrie Underwood would perform at CMA, "Paradise City" would have been near the bottom of my list. Surprisingly, it worked quite well. Carrie let her hair down and allowed the rock anthem take over her body. Brad Paisley proved the rain hadn't scared him off as he returned to the stage to perform a duet with Underwood on "Remind Me." It's easy to see why these two love working together so much. They have an undeniable chemistry between them that makes it hard to think about them apart. Do I feel a remake of "Islands in the Stream" coming?
As Carrie launched into song number four, "He Cheats," the cries of "We want Jake" began to resurface amongst the crowd. In looking at her expression, Underwood was clearly thrown by this. I'm sure she's not used to getting anything other than pure adulation from fans so this subtly rebuke seemed to really sting her. The constant professional that she is, she cast off the criticism and belted out the verses of "He Cheats." Afterwards, she exited the stage, and the macheted installment of Sunday's CMA nightly concert was a wrap around 10 o'clock. There was still no rain in sight.
As I wrap this review, the rain has started falling outside of my hotel room. It's 1 am, and it is a steady patter yet far from monsoon caliber. No thunder or lightning wrapped up in those clouds. I guess I just don't get it. I know festival organizers have become hyper vigilant ever since the disaster at the Indiana State Fair stage collapse that killed seven people and injured dozens more. Their concern is rooted in solid reasoning. No one wants a tragedy like that to ever happen again. On the flip side of that coin, I imagine there was a subset of fans who bought their CMA weekend pass largely for the promise of full sets by their favorite artists whether that was Brad Paisley, The Band Perry or poor Jake Owen. For them, the disappointment must be heart wrenching right now. There has to be a happy medium here.
At the end of the day, the CMA Festival delivered a fantastic weekend that was unfortunately marred in the final mile by oncoming thunderstorms. Let's not let the minor disappointment of an early shutdown of the weekend overshadow the incredible event that was just staged. There were more high-caliber acts at CMA Fest than just about any festival in the country outside of Bonnaroo. If you love country music, CMA Festival is not only worth every cent of admission but you should also just donate extra money so you don't feel so guilty for getting so much for so little.
Though our CMA coverage in Nashville is finished, we'll be coming back to you mid week with a feature highlighting CMA 2013 in pictures. We captured some stunning moment over the long festival weekend and unfortunately could only deliver two shots per article. Get ready for us to throw the kitchen sink at you.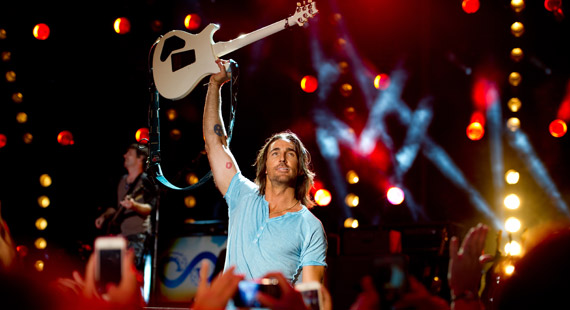 Around the Web