Concert Review: Star 94 Jingle Jam at Gwinnett Arena in Duluth
The lights are sparkling on the tree branches and the weather is getting oh so cold so that must mean its time for the annual Star 94 holiday concert extravaganza — Jingle Jam. For many years, Jingle Jam has gathered together some of pop's hottest acts, as well as a few fresh faces, for a night of musical celebration. This year was no different as the bill touted Jason Mraz, Ed Sheeran, Phillip Phillips, Grace Potter, Alex Clare and Andy Grammer.
For those who haven't been to one of these mini-festival holiday concerts, it is a evening of music bursting at the seams. The festivities started at 7 and raced through the six acts to close out by 11pm. The early artists were afforded 25 minutes sets and the two headliners (Mraz and Sheeran) got to stretch out a bit, playing for 45 minutes. The roadies earned their keep, tearing down a stage just as quickly as they could build it.
Andy Grammer opened the evening promptly at 7. He's been making some hay of late with his single "Keep Your Head Up." Unlike the video, there was no Rainn Wilson around to help choreograph his stage presentation. Grammer's music isn't bad by any stretch, its just a little safe. It follows the pop formula to the T and produces syrupy little tunes that vie to stick in your head. These songs just aren't especially memorable and don't seem to be cementing him a place in this already crowded genre.
The evening's second act, Grace Potter, has been busily making a name for herself in rock and country circles over 2012. She's opened for Tim McGraw and Kenny Chesney on their summer arena tour, and even got Kenny Chesney and Willie Nelson to do guest spots on her band's latest album. She may be playing second, but talent wise, she's a headliner. Potter equally split her time behind the piano and wielding the electric guitar. Outside of playing fan favorites like "Stars" and "Paris (Ooh La La)," she also donned the Santa cap to give us a mash-up of "White Christmas" and "I Love Rock N Roll." Bing Crosby and Joan Jett in a blender never sounded so fresh. Keep your eye on Potter and her clan the Nocturnals as they continue to make waves in 2013.
A lot of people may not recognize the name Alex Clare, but, believe me, you do know his song. His track "Too Close" is the soundtrack to the experience Microsoft is selling called Windows 8. If you've watched any television over the past few month, you can't escape it. Clare seems the antithesis of a rock star, wearing his non-descript ball cap and untucked button up shirt. Not only that, he seemed very placid on stage. His vocals may trick you into thinking he is a soul brother (he's a white boy from London), but his stage persona is more like an accountant. It's a strange dichotomy to try to reconcile.
As for our next performer, I don't know that the American Idol winner would normally slot this high on the bill, but when that Idol star is playing his hometown you can bet there is going to be a lot of love hurled at Phillip Phillips. Phillips is currently riding the success of his first single "Home" while supporting his newly released album The World From the Side of the Moon. He got the tween girls all riled up with his "aw-shucks" demeanor. He dug into the guitar, giving us select cuts off the new album. He seems determined to escape American Idol's recent string of dud winners and make a solid career for himself.
Ah, the curbside prophet is back. I can still remember when Jason Mraz burst on the scene during the singer-songwriter renaissance with the likes of John Mayer and Jack Johnson. Mraz has embraced the pop side of his music in the years since, and it seems to suit him. In his Adidas and fedora hat, he brought with him his acoustic guitar and a stunner on bongos. Mraz dusted off the old favorites in a mashup of "Remedy (I Won't Worry)" and "Geek in the Pink," as well as radio staple "I'm Yours" for a set that surveyed his musical catalog.
When I first saw this roster when it was announced earlier in the fall, I mistakenly assumed that a marquee name like Jason Mraz would be headlining this event. What a difference a few weeks can make. It seems a pasty Brit named Ed Sheeran has been boiling up the charts, making friends with Taylor Swift, and selling out any stick of cardboard with his name on it. Ed Sheeran is definitely a man on the rise. Outside of the sea of screaming fans filling the Gwinnett Arena, you just catch a glimpse of him onstage, and it is evident that he has that elusive IT factor. It doesn't matter what he's singing, the audience is magnetically draw to him. Touring in support of his latest release +, Sheeran brought the young girls to a frenzy as he unraveled the tracks off his new album. He is supporting Taylor in her upcoming summer arena tour, so expect his meteoric rise to continue to pick up the pace.
Overall, it was a successful Jingle Jam. It was an evening of bite-sized musical hors devours, sampling across pop/rock's expansive pallet. If you came to the show expecting to see your favorite band monopolize the evening, you may have left disappointed as sandwiching six bands into an evening only afforded each a brief set. If a sonic sampler platter was topping your holiday wish list, then Jingle Jam delivered the goods. Just don't be surprised if we are seeing a lot more of Ed Sheeran and Grace Potter in the new year.
Jingle Jam in Pictures:
Ed Sheeran | Jason Mraz | Phillip Phillips | Alex Clare | Grace Potter | Andy Grammer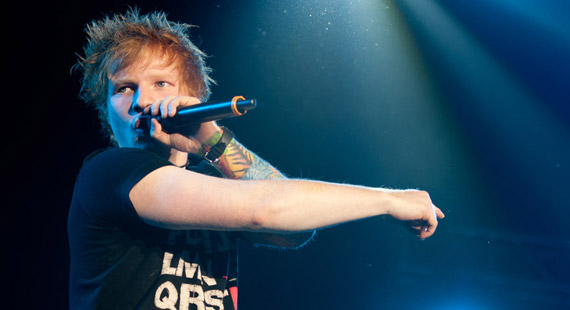 Mark Runyon | ConcertTour.org
Around the Web