George Michael: An Artist Trapped in the Body of a Pop Star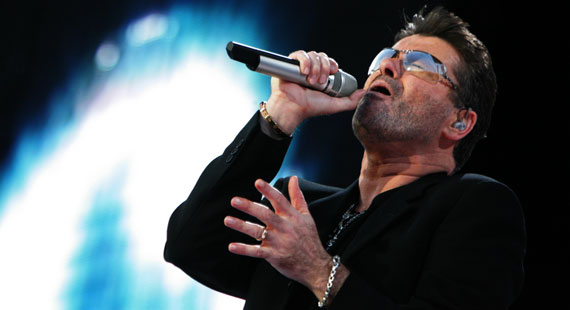 Slavko Sereda / Shutterstock
The first time George Michael hit my radar was during the awkwardness known as 7th grade. I was in Language Arts one morning, and two of the hottest girls in school were wearing their George Michael concert t-shirts, fresh off seeing him on the Faith tour. To the teacher, they were recounting their breathless, rain drenched evening at the now bulldozed Atlanta-Fulton County Stadium. Of course, I'd heard the radio singles from "Faith" to "Careless Whisper", but this was the first time I took notice of the guy. If the hottest women in my world were hanging on his every word, I figured I should probably pay attention.
George Michael didn't truly become a part of my life until the release of Listen Without Prejudice Vol 1. Freshman year of high school, a good friend of mine handed me the tape, telling me it was something special. Up to that point, my musical repertoire revolved around the likes of Vanilla Ice, M.C. Hammer and Janet Jackson. Rhythm Nation aside, there wasn't much redemption hiding within my thin catalog of cassettes. Listen Without Prejudice was one of the first albums to cause a seismic shift in the world as I knew it. In that music, I discovered a richness and maturity I hadn't heard before.
A few months later, I was listening on the radio to the U.S. led invasion to take back Kuwait from Iraq. Bombs were falling as the crackling commentator gave the frightening play-by-play from the ground. Once the DJ took back control of the station, he queued up George Michael's "Mothers Pride" which cemented the moment in my memory for all of time. It is a powerful anti-war song about loss and patriotism which perfectly framed this historic moment.

Contrary to popular belief, George Michael didn't fade away after Prejudice. His album Older, which debuted my sophomore year of college, equaled the artistic heights of Listen Without Prejudice. It had the magnetic dance hit "Fastlove", poignant ballads like "Jesus to a Child" and some of the best broken relationship music you'll find in tracks like "Spinning the Wheel" and "It Doesn't Really Matter". I often think of it as my Michelle album for piecing together a path through some turbulent college days.
Songs From the Last Century was largely a throw away effort of show tune covers yielding a few gems like "Roxanne" and "Miss Sarajevo". He returned with a full slate of original songs with Patience which proved he still had it. The work continued to flirt with dance ("Flawless (Go to the City)" and "Amazing"), had thoughtful moments ("Patience" and "Mother Had a Brother") and showed he was finally comfortable singing about his sexuality ("American Angel").
Thankfully, I was able to see George live in 2008 on the 25 Live Tour. I managed to score fifth row seats during a fan club presale. It was a surreal experience seeing this dynamic showman after all those years listening to him from a far. He played the hits but managed veer off course long enough to catch one of my favorites, "Kissing a Fool". After taking in hundreds of concerts in my lifetime, that night will go down as one of the best shows I've been too.
Thinking back over the years, I've taken my fair share of flack for being a George Michael fan. To the outside world, he is a surface level pop star that needed waking up before he go-go'ed. To me, he was a gateway artist that cracked opened my narrow world of music with a sledgehammer. George Michael's unique blend of soul, R&B and pop helped me discover music's possibilities. It wasn't long after Prejudice that I was consuming copious amounts of Morrissey, Depeche Mode, Tori Amos and the budding grunge revolution. Without George Michael, that awakening may have been put on hold or taken a different direction entirely.
In recent years, I'd been patiently waiting on George Michael to release a new studio album as we recently crossed the ten-year mark since Patience. Like Sade, he seems to poke his head up to dole out some musical goodness once a decade only to disappear into his more private life. Now that waiting stops.
Yesterday, I cycled through his catalog as I coded. After my work day officially wrapped, I went to play with my three-year-old daughter with my phone still searching through Michael's music for answers. The tracking "Amazing" came on. I saw my daughter's head start moving to the beat and before you knew it she had mounted the couch Tom Cruise-style to start dancing. The melancholy that was ushered in Christmas evening was at once washed away. This music doesn't have a shelf life or an age limit. Through these songs, George Michael will live on, long past his short 53 years as new music lovers continue to discover the possibilities he gave us.
Goodbye old friend. You have been loved.
Around the Web