How The Great American Songbook Series Rejuvenated Rod Stewart's Career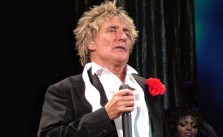 Mary A Lupo | Shutterstock
Like many pop/rock icons of the 70s & 80s, Scotland's most notorious ladies' man, Rod Stewart, found it difficult to sustain his success as his career ventured into 90s. The football fanatic's career might not have been exactly in the doldrums – Bryan Adams & Sting collaboration "All For One" gave him a surprise US No.1 in 1993, while 1998's When We Were The New Boys, a collection of Britpop songs originally recorded by the likes of Oasis, Primal Scream and Skunk Anansie peaked at No.2 in the UK. But an Outstanding Contribution to Music BRIT Award and his induction into the Rock & Roll Hall Of Fame suggested that the music industry was ready to put him out to pasture.
His first 21st Century release didn't exactly help matters. Recorded with renowned hit-makers Gregg Alexander, Rick Nowels and John Reid and featuring collaborations with a younger generation of artists including Macy Gray and Helicopter Girl, 2001's Human was supposed to be the record that made Stewart relevant again. However, barely scraping the Billboard Top 50 and failing to produce a genuine hit single in any territory, it appeared to confirm that Stewart's best days were over.
Step forward Clive Davis, the record company mogul responsible for launching the careers of Whitney Houston, Alicia Keys and Christina Aguilera and arguably most significantly, completely reviving the fortunes of Mexican guitarist Carlos Santana with the star-studded Supernatural project. Eschewing the temptation to frogmarch Stewart into the studio with a similar host of contemporary chart stars, Davis instead encouraged the then 57-year-old to utilize his song interpretation skills after signing him to his J Records label.
It was a simple but smart idea. Stewart had long since given up attempting to write his own material, admitting that the process never came natural to him, whilst he first rose to fame in the late 60s with renditions of tracks by the likes of The Rolling Stones ("Street Fighting Man"), Bobby Womack ("It's All Over Now") and Tim Hardin ("Reason To Believe").
But rather than the vintage rock classics of the 60s, Stewart traveled further back in time to lend his soulful raspy tones to the classic 30s/40s standards of Irving Berlin, Cole Porter and George Gershwin. Featuring covers of "They Can't Take That Away From Me" and "The Way You Look Tonight" alongside a second recording of "Every Time We Say Goodbye," his 2002 first installment of The Great American Songbook series, It Had To Be You, proved that audiences were ready to embrace Stewart as an old-school crooner, returning him to the US Top 10 for the first time since 1991's Vagabond Heart.
2003's follow-up As Time Goes By, a similar collection of traditional big-band numbers which also included Cher duet "Bewitched, Bothered and Bewildered," proved that Stewart's success was no fluke. But it was 2004's Stardust that truly cemented Davis' idea as one of the most inspired of his career. Debuting at number one with an incredible first-week sales of 200,000, the third installment became Stewart's first US chart-topper since 1979's Blondes Have More Fun, and surprisingly, despite a back catalog busting with hits, earned him his first ever Grammy Award for Best Traditional Pop Vocal Album.
Milking the whole concept for all that it was worth, 2005's more collaborative Thanks For The Memory saw him team up with the likes of Diana Ross ("I've Got A Crush On You"), Chaka Khan ("You Send Me") and long-time pal Elton John ("Makin' Whoopee"). However, perhaps sensing overkill, 2006's Still The Same…Great Rock Classics Of Our Time saw him adapt a similar concept to four decades of vintage rock n' roll with interpretations of Cat Stevens' "Father & Son," John Waite's "Missing You" and The Pretenders "I'll Stand By You," helping him to score a second Billboard No.1 in two years.
His 25th studio album, 2009's Soulbook, did what it said on the tin with Stewart tackling the classic soul and Motown numbers he grew up with before a 2010 fifth Great American Songbook Volume, Fly Me To The Moon…and 2012 festive collection, Merry Christmas, Baby, confirmed that he has no intention of abandoning his successful formula. With an astonishing eight consecutive US Top 10 albums, who can blame him?
Around the Web