Jason Mraz Serenades California with Acoustic Tour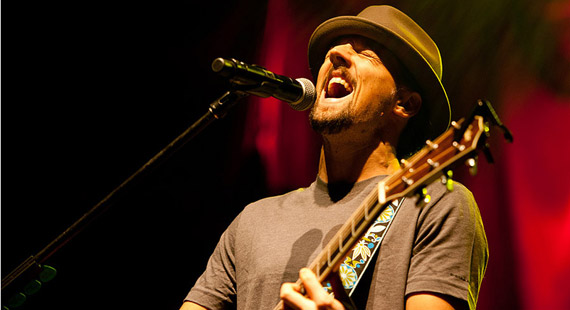 Mark Runyon | ConcertTour.org
In anticipation of the release of his upcoming album, Jason Mraz has announced that he's planning a string of acoustic tour dates for his West Coast fans. Sorry East Coast fans: no Mraz for you yet.
The tour kicks off on March 15th in Santa Cruz, and will see Mraz make stops in Rohnert Park, Sacramento, San Luis Obispo, Fresno, Riverside, Chico, all California, and Eugene, Oregon, before wrapping up on March 31st in Redding, also California.
The venues look to be smaller than the ones Mraz is used to commanding and will allow for a more intimate setting to hear the singer-songwriters hits and possibly new songs off of his upcoming album. (Well, you'd expect so, right?) Raining Jane are due to fill the supporting bill throughout the two week mini-trek.
Before he heads off on his acoustic excursion, however, Mraz plans to join Vince Gill, Emmylou Harris, Heart and others at the "All For The Hall" benefit for the Country Music Hall of Fame & Museum March 4th at Los Angeles' Club Nokia at LA Live.
Mraz is working on the follow-up to his fourth studio album, 2012's Love Is A Four Letter Word, which debuted at number two on the Billboard 200 in the United States, and sold 102,000 copies in its first week alone. The singer-songwriter's new LP is due out later this year. Mraz also recently joined forces with country star, Hunter Hayes and helped to remix Hayes' single, "Everybody's Got Somebody But Me," which was a major cross over hit on both the pop and country music charts.
"After many long weeks experimenting in the studio, we're ready to test our creations on the road," Mraz wrote on his website. "West Coast here we come! Be a #yes & join us in March for an intimate run of shows and experience some of what's to come on #album5!"
Around the Web