Is Lady Gaga The Ambassador Of The Gay Community Or Exploiter?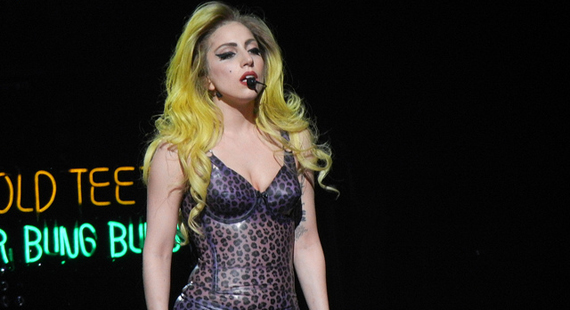 A virtual unknown six years ago, Lady Gaga has since managed to usurp Madonna as the gay community's pop diva of choice thanks to a string of empowering anthems, a series of outlandish visual statements and a devotion to supporting LGBT rights which has bordered on the messianic. But ever since she burst onto the radar with "Just Dance," there has also been an increasing amount of suspicion that her dedication to the cause isn't entirely genuine.
On the surface, it's a theory which doesn't hold too much water. The artist formerly known as Stefani Joanne Angelina Germanotta began her career performing in small gay clubs around the States, while her first live televised appearance came on the NewNowNext Awards show aired by LBGT station Logo.
And following the confession that she'd had relationships with both men and women during the promotion of her debut album, The Fame, she embarked on a one-woman crusade to bring equal rights to the forefront of the political and social spectrum, attacking Pope Benedict for his views on same-sex marriage ("they don't matter to the world"), criticizing the homophobic attitudes of several European countries, and describing gay people as 'revolutionaries of love.'
Her most famous stunt, of course, occurred at the 2010 MTV Music Video Awards, when she was accompanied by four gay/lesbian members of the armed forces who had been unable to serve openly because of the US military's 'Don't Ask, Don't Tell' policy, even if her message was slightly overshadowed by her now infamous meat dress.
But her activism hasn't always been so gimmicky. In the same year, she uploaded three YouTube videos urging her 'Little Monsters' to contact senators to overturn the DADT rule, while in 2011, she managed to broker a deal with retail giant Target to sell a limited edition of her second album, Born This Way, but only on the condition they severed all ties with their previous anti-gay causes.
Initially, her overwhelming support for the LGBT community was met with a positive response. The Advocate described her as the 'real fierce advocate' that Barack Obama had promised to be, while the Trevor Project's Trevor Hero Award was one of many accolades she received for her humanitarian work.
However, as Gaga's actions became more and more overt, heavy-handed and arguably condescending, a growing sense of disdain towards the star emerged, none more so than when the title track from Born This Way was unleashed on the unsuspecting public.
Of course Gaga has never been one for understatement, but her 'ultimate gay anthem' was about as subtle as a sledgehammer with such words of wisdom as 'don't be a drag, just be a queen.' Admittedly, its idealistic message of acceptance was lapped up by some of her younger crowd, who perhaps weren't even born when Madonna's "Express Yourself" covered the same theme and sound back in 1989.
But for many, it was an all too contrived attempt to create an "I Will Survive" for the Grindr generation. Her intentions may have been good, but ultimately, not every gay man and woman sees themselves as the outsider that she portrays in the song's clumsy lyrics, and in fact rather than giving a voice to a minority group, she took it away by claiming that every single person in it possessed the same clichéd and stereotypical personality. Indeed, rather than the liberal champion of gay rights she purports to be, there's an argument that her sometimes simplistic views of the LGBT community is as damaging and as conservative as the most right-wing Christian groups'.
Gaga herself has refuted accusations that she is exploiting her gay fans in order to sell records, telling The Advocate in an interview last year: "I would say the top thing I think about every single day of my life, other than my fans, loving the music, and my family being healthy, is social justice and equality."
While during a press conference at Canada's 2011 Much Music Awards, she acknowledged the fact that not everyone wants her to be the ambassador for gay culture: "If some people don't want to be defined by me as their mother, that's wonderful. I don't view it in that way. I view it as being part of the generation, not as the leader."
Whatever your views on her attention-seeking publicity stunts and apparent delusions of grandeur, there's little doubt that Gaga's moralistic campaign is from the heart and that it is also responsible, if not for changing attitudes, then at least for thrusting certain issues into the limelight. But if she continues to deliver her messages in such a clumsy way, then she runs the risk of alienating the majority of people she's aiming to represent.
Around the Web