The Lasting Significance of Bon Jovi's Slippery When Wet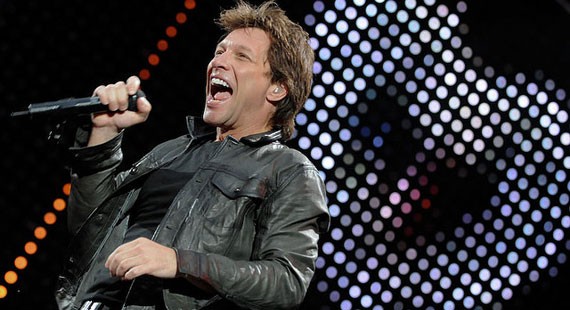 Bruce Springsteen will always take the cake as New Jersey's poster boy for music, and deservedly so. But Bon Jovi are also one of New Jersey's finest, and one of the most important artists of the '80s. When the era was riddled with cheesy, hair-heavy bands relying too much on falsetto and image to ascend the charts, Bon Jovi released an album in 1986 that wowed critics and fans alike for its commitment to devastating hooks that appealed to the pop, hard-rock, and heavy metal niches. The latter style had a difficult time prior entering the mainstream, and Bon Jovi's third album, Slippery When Wet, propelled it into deserving status. Pop and hard-rock were and always are at the forefront for Bon Jovi, but there's no denying the presence of metal on their debut. The aggressive rhythmic guitar work, in particular, shows that. But the brilliance of the release is its masterful juggling of all these elements, resulting in an anthemic and radio-friendly sound that helps Bon Jovi to echo throughout radio waves to this day.
The production process of Slippery When Wet remains interesting and very unique. Whereas most artists are highly secretive of their unreleased work, Bon Jovi auditioned the potential tracks for the album in front of New York and New Jersey teenagers, basing the eventual track listing on their opinions. Screw the critics; Bon Jovi relied on the voice of the people. And boy, did they choose right. Another reason for the album's success was professional songwriter Desmond Child, who the band hired after their first two albums didn't achieve the expected success. Child went on to write hits for Ricky Martin, Aerosmith, Kelly Clarkson, and many others, but prior to Slippery When Wet had only worked with Cher, Kiss, and Bonnie Tyler. Those are certainly some big names, but no one realized his potential until his pivotal role on Slippery When Wet. He co-wrote two of the three biggest hits on Slippery When Wet; "Livin' on a Prayer" and "You Give Love a Bad Name" were his own. Suffice to say, Child never had issues finding work after Slippery When Wet, merely one aspect of lasting significance the album created.
When Bon Jovi wrote the album in the basement of guitarist Richie Sambora's mother, the band probably had no clue they were about to be escalated into stardom. Between its release and the following year, the album landed three tracks on the Top 10 Billboard Hot 100, and the album itself peaked at #1 on the Billboard 200. It stayed for eight weeks at #1, and 38 weeks in the Top 5. The success speaks for itself, and mostly everyone aged 30 and up remembers the first time they heard one of the album's hits. Take the vocoded intro to "Livin' on a Prayer", for instance, which meshes with a booming bass and stuttering bass arpeggio. It's a trademark opening, which stampedes into a thumping anthem where Bon Jovi unleashes the famous chorus: "Whooah, we're half way there, whooah, livin' on a prayer / Take my hand and we'll make it I swear, whooah, livin' on a prayer." The song's beginnings, which details working-class characters and circumstances – like Gina working the diner all day, and a union being on strike – recalls Jersey native Bruce Springsteen's penchant for personable middle-class narratives, though here presented with more accessible pep. Even if they were less daring and less illustrious than Bruce, Bon Jovi's knack for hook-filled anthems with a hard-rock and metal edge makes them a trademark of the '80s. Slippery When Wet introduced them to masses, and makes their legacy that much sturdier. It shifted the tide of '80s rock from superficial hair extensions to buzzing, hook-filled rock, like a breath of fresh air.
Around the Web