Meet Fancy Reagan: VH1's Newest Overnight Success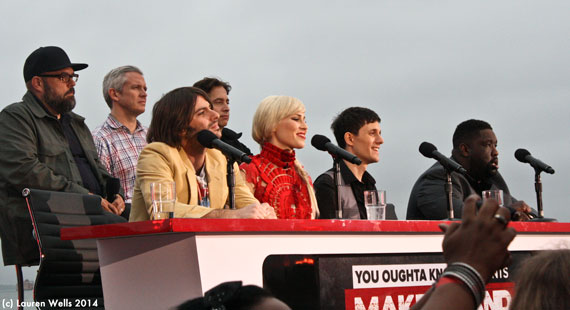 Lauren Wells | ConcertTour.org
After a sleepless 24 hours of musical challenges, Fancy Reagan was announced as the winner of VH1's "Make A Band Famous" competition.  Held at the Liberty Warehouse in Red Hook, Brooklyn, the event featured 24 bands competing for one life-changing grand prize: a record deal with Republic Records, exposure on VH1's "You Oughta Know" program, and a performance slot in this week's Northside Music Festival.
Judges Robert Schwartzman (of Rooney), Natasha Bedingfield, Kurt Hugo Schneider (YouTube sensation), and Adam Blackstone (musical director to Justin Timberlake, Pharrell, and Maroon 5) along with record execs and fans, helped push Fancy Reagan, Chris Ayer, and MALADO! to the top three.  Fans took to Twitter using the hashtag #MABF to vote for their favorite acts.
After uploading 15-second video clips of original songs to Instagram, over 2,500 musicians all over the U.S. encouraged their fans to vote, resulting in the top 24 bands gathering in Brooklyn for the competition.  The overnight contest asked competitors to learn cover songs in an hour, remake hits using only toy instruments, and play for money and fans in Williamsburg.  Chris Daughtry, Travie McCoy (of Gym Class Heroes), and Bonnie McKee (co-writer for Katy Perry's "California Girls," "Teenage Dream," and "Roar") mentored contestants throughout the 24 hours.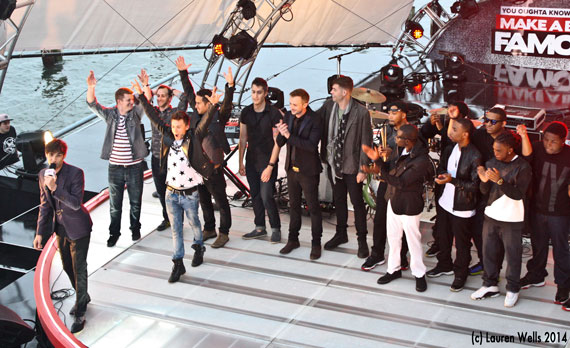 Host Tyson Ritter (of The All-American Rejects) announced Fancy Reagan as last night's winner as the other finalists (Chris Ayer and MALADO!) looked on.
Fancy Reagan performed their two original songs first, bringing high energy to the stage despite the lack of sleep.  Highlighting their pop-rock sound, they slowed the pace down for their second song, "Don't Say It's Over."  Following the group was singer-songwriter Chris Ayer, whose laid-back, soulful songs got the crowd clapping and singing along.  Between songs, Ayer happily reflected what every performer was thinking, "This has been the most surreal 24 hours of my life."  Rap group MALADO! closed out the finale with their passionate rock-infused song pairing.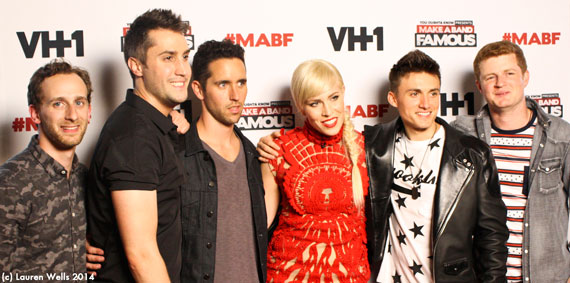 Left to Right: Chris Tsanganeas (drums), Bobby Kay (bass), Richie Fuchs (guitar), Natasha Bedingfield, Sean Michael Murray (vocals), and Jason Krebs (keys).  Throughout the contest, Fancy Reagan was lovingly referred to as "Natasha's band."  
Immediately after their VH1's "Make A Band Famous" win, Fancy Reagan spoke with me about how they came together and what's next.
Why the name Fancy Reagan?
It was kind of a random happenstance after a long night of heavy deliberation…
… And drinking maybe?
Maybe, maybe some drinking…
How do you feel knowing your name is going to be all over now?
Oh, we love it!
What's next besides sleep? Madison Square Garden?
It's funny you say that– every day when we're in practice, Sean is always talking about Madison Square Garden.
How'd you all meet and get started?
Jason:  We all go back about 15, 16 years.  Some of us went to high school together and played hockey together.  This guy (signaling to Chris) and I played in a country band a while ago.
When you go into the studio, will this country background influence you?
Jason (smiling) No, that's in the past.
Who are your main musical influences?
Chris: We're kind of all over the board as far as our backgrounds, but I guess for bands we talk about now that we'd like to tour with… We think about Bastille, One Republic, Neon Trees, and Imagine Dragons.
What are your goals? What's next for Fancy Reagan?
Sean: We want to make this last! Keep working hard. Our goal is consistency from here on out, and we've already achieved this.
Jason: Like you said, Madison Square Garden.
Sean: Yeah that's my dream venue, and I'm always at shows and I mentally say it–
Jason (laughing): Sometimes he verbally says it.
Sean: It's a joke, but yes, hopefully! It's a dream.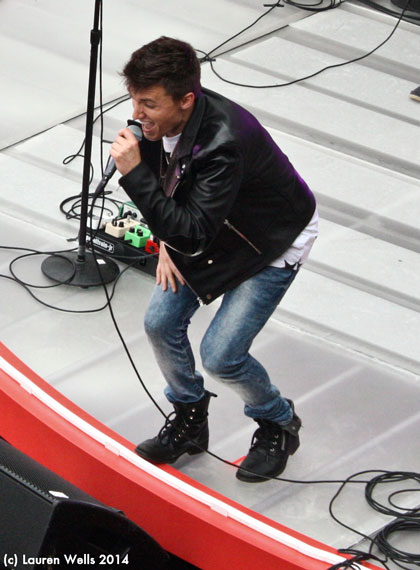 Around the Web