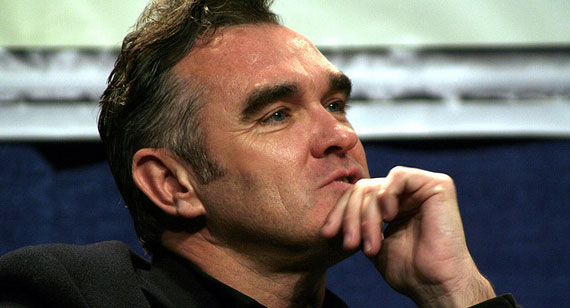 From fronting The Smiths to his vastly successful career as a solo artist, Morrissey's penchant for somber wit has remained. Though his works are bleak, his often tongue-in-cheek delivery encourages a wide palate of emotions, making his range one of legendary proportions. Few artists are able to embody such a prominent personality through songs rooted in accessible alternative-rock. Whether you're a victim of unrequited love, a bad friendship, or simply hate it when your friends become successful, there's a Morrissey song for you. But it's easy to grab one of his Greatest Hits compilations. Grasping Morrissey's true genius requires listening to his best albums, front to back. Here are his best solo efforts:
Viva Hate (1988)
When The Smiths disbanded in 1987, it was because of a rift between the band's two leaders – singer/lyricist Morrissey and guitarist/songwriter Johnny Marr. Marr was largely responsible for the sound behind Morrissey's deep and quivering croon, and most fans wondered how Morrissey would fare having a different composer at the helm. Morrissey was always purported to be fiercely loyal to one project a time, whereas Marr had been working with other artists prior to The Smiths' break-up. It was natural to wonder if Morrissey would fizzle out. But less than a year after the band's break-up, Morrissey proved he was still on top with the release of Viva Hate. It was his solo debut, and the first of many that would define his acclaimed post-Smiths career. Working with Stephen Street and Vini Reilly, Morrissey concocted a jangle-pop sound not too far from The Smiths' final LP, Strangeways, Here We Come. "Everyday Is Like Sunday" and "Suedehead" became some of his most famous songs, reaching radio waves instantly with their polished grandiosity. And then there's "Late Night, Maudlin Street", the pinnacle of emotive Morrissey epics. As a reflection on adolescence, and all its somber and defeating moments, the simultaneous impact of nostalgia and heartbreak is rarely captured so well.
Your Arsenal (1992)
Your Arsenal is the first release from Morrissey's current backing band, who contribute on all his solo albums from Your Arsenal to 2009's Year of Refusal, his most recent full-length. Alain Whyte was the chief composer for Your Arsenal and, along with other frequent Morrissey songwriter Boz Boorer, he derives from the rockabilly scene. While remaining excellent, the album represents a slight shift in style for Morrissey. Transitioning from more fluid jangle-pop to thicker rock, tracks like "You're Gonna Need Someone on Your Side" and "You're the One for Me, Fatty" showcase a sound heavier in guitar and bass, with distortion and various effects appearing more frequently. That's not to say Morrissey's voice is pushed to the back, though. Mick Ronson's brilliant production expertly juggles his presence with the musical backdrop, mixing rock-laden efforts with subdued ballads like "Seasick, Yet Still Docked", which wallows in lovesick pity over swaying acoustics before Morrissey concludes with, "My love is as sharp as a needle in your eye You must be such a fool to pass me by." As that line shows, his melancholy doesn't necessarily equate to a lack of self-worth. These subtly beautiful contrasts, both lyrically and musically, help make Your Arsenal one of Morrissey's best.
Vauxhall and I (1994)
Stylistically, there's not much different on Vauxhall and I than Your Arsenal, released two years earlier. There remains the contrast of high-spirited rockers – "Now My Heart Is Full", "The More You Ignore Me", and "Speedway" – with reflectively gorgeous ballads, namely "Lifeguard Sleeping, Girl Drowning" and "I Am Hated for Loving". Now comfortable with his new lineup, Morrissey juggles the various tones with more efficiency than ever. The album's first half rolls along at a brisk pace with efforts like the fleeting "Billy Bud", while the middle features the aforementioned ballads. The release moves along with very natural pacing, now led by famed rock producer Steve Lillywhite. Songwriter Boz Boorer's rockabilly influence comes most alive on closer "Speedway", where a buzzing chainsaw incorporates well into one of Morrissey's most infectious efforts. Vauxhall and I is one of Morrissey's most diverse releases, and one that has aged with considerable grace.
You Are the Quarry (2004)
The 21st century has resulted in several fascinating stylistic turns for Morrissey. For instance, 2006's Ringleader of the Tormentors featured the legendary Ennio Morricone providing the arrangement for "Dear God Please Help Me". The past decade has been a very entertaining ride for Moz, but of his most recent releases 2004's You Are the Quarry remains the most solid and consistent. The first three tracks are "America Is Not the World", "Irish Blood, English Heart", and "I Have Forgiven Jesus"; they seem to beg for controversy in their titles alone. But it doesn't get past the point that few Morrissey albums start out better. Along with "First of the Gang to Die", these are triumphant pop anthems that touch on a variety of issues, from painstaking nationalism to familial ties. As usual, Morrissey serves as one of the best lyricists in music, painting his narratives with a melodic sincerity that is entirely unique to his craft. It doesn't require a dramatic stylistic transition to keep him relevant, and You Are the Quarry is one of the latest to prove that.
Around the Web