Rod Stewart, Santana Join Forces for Arena Tour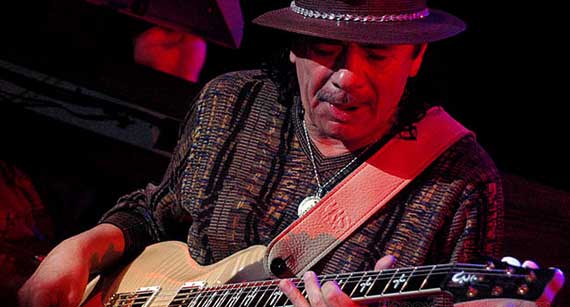 Smooth rock fans: brace yourselves. This may be the most exciting thing that will ever happen to you. The latest in a long line of superstar megastar co-headlining jaunts sees Rod Stewart and Santana team up for a trek across North America.
In what their publicist has termed "their combined love of rock, soul, world rhythms, funk, jazz and blues," the duo will hit the road in May for an 18-city North American tour that will see them traveling across the United States and into Canada.
The tour, dubbed "The Voice, The Guitar, The Songs" kicks off on May 23rd in Albany, and will see the pair make stops in Pittsburgh, Vancouver, Denver and Washington, D.C. before wrapping up on August 20th in Wantagh, New York.
Stewart has previously toured with rocker Steve Winwood, while Santana shared the stage with the Allman Brothers Band.
As elders of rock n roll, both Stewart and Santana have had a relatively quiet few years. The tour announcement does come with a few musical releases, however.
Stewart, 69, is releasing a retrospective, Live 1976-1998: Tonight's The Night, on March 18th. The four-disc album includes 58 tracks, such as "Maggie May", "Hot Legs" with Tina Turner, "Infatuation" and "Try A Little Tenderness."
Santana, 66, meanwhile, is planning to release another one of his collaboration albums, Corazon, featuring appearances from Pitbull, Miguel and Gloria Estefan.
In a career spanning five decades, Stewart has sold more than 150 million albums worldwide. Last May, he released Time, his first rock album in a dozen years.
Santana, led by guitarist Carlos Santana, has sold more than 100 million records and performed for more than 100 millions fans at concerts across the globe. Santana won a record-tying nine Grammys, including album of the year, for 1999's Supernatural.
Both have staged successful residencies in Las Vegas.
Around the Web