Rod Stewart's Best Love Songs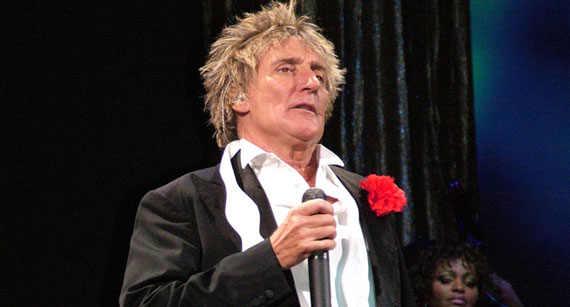 Mary A Lupo | Shutterstock
Rod Stewart will forever be associated with many classic songs, even beyond his most popular, "Maggie May". The British singer-songwriter has seen a career ranging dramatically from early innovations to his later years, where he blended into contemporary pop phenomenon like a chameleon. Early classic albums like 1971's Every Picture Tells a Story and the next year's Never a Dull Moment showcased a fervent blend of blues, folk, and hard rock, with Stewart's singing ability only rivaled by the likes of Robert Plant and Mick Jagger at the time. His later years were more of a mixed bag in terms of critical acclaim, but nonetheless produced some strong songs in adult-alternative. There have been two enduring aspects of Stewart's music through his entire career, though: his enthusiastically raspy croon, and his penchant for love songs that would bring anyone to their knees. Here are some tracks that are regarded as his best love songs:
"I Don't Want to Talk About It"
Rod Stewart's 2001 greatest hits compilation was acclaimed largely because it separated his differing tones into two discs, with perky pop songs comprising the first and his trademark love songs the second disc. After the Gavin Sutherland-penned "Sailing" kicks the second disc off, one of Stewart's most famous love songs begins — "I Don't Want to Talk About It". Written by original Crazy Horse frontman Danny Whitten, who died at the young age of 29, the track was released first on their eponymous debut, before Stewart covered the song in 1975 and sent it to the top of the charts. The main hook features Stewart's trademark croon, as he begs a lost love for a chance at redemption: "I don't want to talk about it, how you broke my heart / If I stay here just a little bit longer, If I stay here, won't you listen to my heart?" With a track as sweepingly romantic as this, it would be hard for anyone to refuse.
"Tonight's the Night (Gonna Be Alright)"
The smooth guitar stylings and vintage twinkle of "Tonight's the Night (Gonna Be Alright)" help define a great love song, where Stewart is at his best vocally and melodically. Adding to its romantic appeal is the involvement of Stewart's then-girlfriend, Swedish actress Britt Ekland. She contributes sensual whispers toward the track's conclusion. The actual lyrics are certainly more sexually suggestive than romantic, however, in detailing the deflowering of a virgin. "Spread your wings and let me come inside 'cause tonight's the night (gonna be alright)," Stewart quips to his "virgin child." On second thought, the lyrically attentive may wonder about the fine line between lust and love. It's mostly productive, and a striking song nonetheless.
"You Wear It Well"
A highlight off classic album Never a Dull Moment, "You Wear It Well" is led by graceful acoustics and a pleasant twang. Rod Stewart's voice is at its clearest and most emotive; this was before nasal reconstruction would go on to affect his timbre. With stylish violin accompaniments, the track is a feel-good ode to beauty. Guitarist and songwriter Martin Quittenton adds some excellent acoustics, making it a close acquaintance of the breezy folk-rock gem "Maggie May". Add in the soulful organ accompaniments and you have an excellent ode to love and beauty.
"Stay With Me"
One of the most recognizable efforts from The Faces, the band that jump-started Stewart's career, "Stay With Me" was written by Stewart and Rolling Stones member Ronnie Wood. Its detailing of a one-night-stand with a girl named Rita is forever remembered by fans of classic rock, with its raucously crunchy guitars and Stewart's party-ready delivery. His raspy trademark really came to light here, with a bluesy howl becoming particularly prominent. Stewart's voice sounds like he just woke up from a crazy night of partying. On the feel-good and amiable "Stay With Me", listeners will wish they were partying with him too.
"You're In My Heart (The Final Acclaim)"
One of Stewart's most tender songs, "You're In My Heart (The Final Acclaim)" features longing acoustic guitars, country-style violins, and heartfelt keyboard twinkles. It's a fitting end to this list, as the track is Stewart's most stunning description of true love in general. Forget the one-night-stands and sexual escapades; this is real love. "You're in my heart, you're in my soul, you'll be my breath should I grow old / You are my lover, you're my best friend, you're in my soul." Showing a more mature side, these are the types of tracks that would go on to propel Stewart's comeback and later career work.
Around the Web