How Stripped Helped Christina Aguilera Reign Supreme Over Britney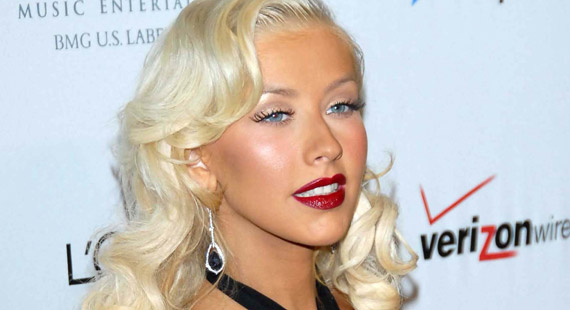 Ever since they burst onto the pop scene in 1999, the press have continued to contrive a feud between former Mickey Mouse Club colleagues Christina Aguilera and Britney Spears. And although the pair very rarely alluded to their rivalry themselves, by the end of 2002, the general consensus was that the latter had emerged victorious.
Of course, Aguilera's career was hardly in the doldrums. Her self-titled debut had shifted 17 million copies on its release in 1999 (compared to the 26m that Baby One More Time sold), "Genie In A Bottle," "What A Girl Wants" and "Come On Over Baby" had all reached the top of the Billboard charts, while she even picked up Best New Artist at the 2000 Grammy Awards.
But following her initial wave of success, things went rather quiet. A Spanish album, Mi Reflejo, and festive record, My Kind Of Christmas, were mere mild distractions, and while she enjoyed success as one fifth of the super-group who took "Lady Marmalade" to No.1 as part of the Moulin Rouge soundtrack, she was undeniably playing catch-up to Britney when she eventually unleashed her belated second album proper in 2002.
Indeed, in the subsequent three years since Christina Aguilera, Britney had made her big-screen debut with Crossroads, embarked on a $40m grossing world tour and been named as the most powerful celebrity by Forbes magazine, not to mention releasing a further two studio efforts. 2000's Oops…I Did It Again consolidated her status as the ultimate pop princess, achieving the highest first-week sales of all time in the US, while 2001's eponymous LP, which saw her hook up with the likes of The Neptunes and Dido, showed enough potential to suggest she was capable of maturing alongside her largely teenage audience.
But behind the scenes, Aguilera was planning her attack. Deeply unsatisfied with the squeaky-clean image and bubblegum sound of her debut, she sacked manager Steve Kurtz and hired Irving Azoff instead, teamed up with everyone from Alicia Keys to Glen Ballard to Linda Perry in an effort to distance herself from her manufactured pop past and co-wrote all but one of the 20 tracks on her second album, Stripped.
Initially, this fiercely independent approach appeared to have backfired. Lead single "Dirrty," a raunchy maximalist slice of R&B featuring Wu Tang Clan's Redman, sent shockwaves across both the industry and unsuspecting public, largely thanks to its unashamedly filthy David LaChapelle-directed promo, which saw Aguilera writhing around in a post-apocalyptic orgy dressed in a manner which Time magazine summed up as 'like she'd arrived from an intergalactic hooker convention.'
Arguably more sexually explicit than any promo Madonna had put her name to, "Dirrty" may have hit No.1 in the UK, but was considered a step too far in her homeland, failing to even chart inside the Top 40 on its release. Its parent album fared considerably better, entering at No.2 behind the 8 Mile soundtrack, but its first-week sales of 330,000 wasn't even half the figure Britney had managed a year earlier.
RCA executives may have understandably panicked that their golden girl had completely scared off her fan base, but they needn't have worried for too long. For in a remarkable turnaround, Stripped went onto become not only the defining record of Aguilera's career, but one of the biggest albums of 2003.
Its incredible change in fortune was undeniably down to one song and one song only, "Beautiful." Penned by former 4 Non-Blondes front-woman Linda Perry, who turned down Pink's offer to record it for her Missundaztood record because it was far too personal, she eventually and reluctantly gave it to Aguilera after hearing just how much emotion she was able to inject into it. One of her more understated performances, its empowering message of self-acceptance struck a chord with those who could relate to its themes of alienation and after hitting No.1 on the Billboard chart, it went onto win a Grammy Award for Best Female Vocal Pop performance, and perhaps more importantly, won back those who had jumped ship after "Dirrty."
Aguilera then never looked back. "Fighter," a massive arena rock anthem which celebrated the hardship of a relationship for making her strong; Lil Kim collaboration "Can't Hold Us Down," a dancehall-tinged R&B feminist anthem about the double standards of male sexual behavior; and "The Voice Within," a Mariah-esque power ballad about trusting your instincts, all helped Stripped on its way to sales of 13 million copies and a two-year stay on the chart. While a joint tour with Justin Timberlake and the subsequent Stripped world tour earned her the title of the top-grossing female live act of the year.
Touching upon subjects as grown-up as domestic abuse and sexual freedom and in addition to tackling a diverse blend of Latin pop, soul, blues, hip-hop, rock and gospel, Stripped was instrumental in proving her credentials as a serious credible artist, something which always eluded Britney. And by the end of the album's campaign, it was widely accepted that while Spears may have won several battles, Aguilera had won the war.
Around the Web