Talking with YOOFS: The Twin Brothers and Their Busy 2014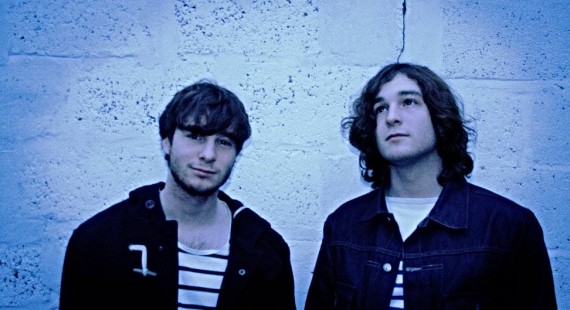 "Me and Rich are brothers… twins actually" says Michael-James Dent, one of two young men behind YOOFS, a low-fi indie duo whose wall-of-sound guitars have lent themselves to an impressive catalogue of tunes. "We've been playing music together since we were about 14 or 15. It originally started as a three-piece playing in our mate's caravan who was the drummer at the time. We used to jam, listen to music and all that other stuff that kids do when forming bands. Eventually it ended up just being me and Rich and I think it's a lot easier that way."
"We've had loads of drummers though. Our first one Jamie was the main guy who sorted out our drum parts but when he left we didn't really feel the need to replace him because it was easier to do everything ourselves: record and write drums and stuff. It just seemed like more hassle."
Their album Something (which is available on their Bandcamp site) was released earlier this year on Strong Island Recordings and follows an EP they released way back in 2011. This year looks set to be their most productive yet though, with the pair already busy working on another EP for release later this year with a set of "random songs" for release throughout the summer too. They're not like traditional music-makers in the way that their approach to the project is thoroughly casual. Whilst they might set out EPs and releases – and subsequently dedicated time to create them – they find themselves recording stuff whenever the moment presents itself.
"We don't really care about being in a band in the normal way, we just like writing tunes together, recording them, becoming more familiar with the recording gear we've got and getting better at it. We have loads of different things happening at the same time too. Like, I personally did a thing called OUTLAW BOOGIE", continues Michael-James, "and I put out an EP as that. That was basically YOOFS-tunes that weren't YOOFS-tunes — very similar but like a little cheesier. We always have songs that we write for other stuff and then think 'Hey, why don't we use that for YOOFS?"
The twins aren't planning many live dates in the very near future, opting instead to remain as denizens of their own makeshift recording studios. A pursuit that can gain them more and more fans without losing them any money. "We use to play all the time when we started: we'd be going up to London, Bristol and around Brighton all the time. Sometimes twice a week. We played with Mac DeMarco, Real Estate and loads more. But because it's just me and Rich, we don't have a drummer, recently the only way we've been able to play is with outside help. We did some shows this year with our friend Tom – who is in an awesome band called The Death Of Pop – and we only really managed because they were playing the same night too. We also wanna be more productive with our time… if we go out and play gigs we can lose money. Recording is also a lot more fun. For me anyway."
The release they're working on at the moment is in no rush to be finished, and despite it only being a small EP, they've got more than enough to choose from. "The upcoming EP is probably gonna be five tunes but we've got about twelve/thirteen songs to pick from. They're all demoed it's just a case of finishing them all off and picking the best ones so we can have something that's a little different from the album."
YOOFS have started, alongside the recording for their next EP, work on songs that will be released over the course of the summer, with the first of these called '(Can't Think Of) Anything Clever To Say'. Their Facebook suggested that these "random songs" might form part of a "collection", but "probably not". Ah well.
Around the Web