Top 10 Earning Dead Musicians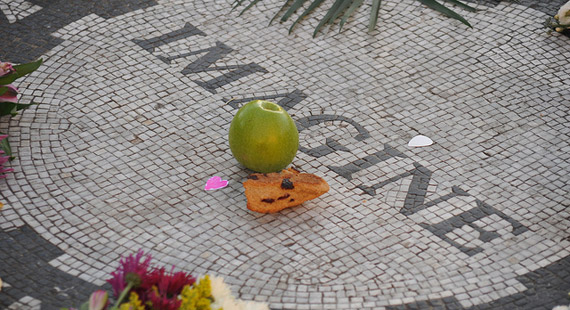 Even though some of us spend our entire lives working two hundred hours a week just to afford the falling-to-pieces room in an apartment we share with four students and a family, some people break it a little luckier than that. Some people succeed in not only making ridiculous amounts of cash when they're alive, but pulling in millions of dollars long after their ashes have been blasted into space or made into diamonds. But which musicians are the greatest afterlife earners? Read on.
1) Michael Jackson
I'm sure you guessed this one once you'd glanced at the title of this article, and you were correct; the King of Pop continues to rake in the millions five years after his death. His music is continually loaned out to big musicians plus two recent Cirque de Soleil shows and some remastered classics have led to MJ raking in a staggering $160 million dollars over the last year alone, not only making him one of the highest paid dead musicians, but the highest paid dead celebrity in the world. Insert Thriller joke here.
2) Kurt Cobain
The lead singer of Nirvana might have passed away over twenty years ago, but his image lives on — to the tune of $50 million. The man who covered Bowie's "The Man Who Sold The World" has done particularly well this year, with special editions of Nevermind released and songs appearing several TV shows — like Six Feet Under. Courtney Love controls his estate and generally has no issue with farming out licensing his various big hits. I'm pretty sure Kurt is rolling in his grave as we speak.
3) Elvis Presley
He of the Forrest Gump inspired snake hips lands at the number three spot, managing $42 million last year — even though he hasn't released any music since 1977. Much of this cash has come from the flogging of merchandised memorabilia and remastered music, as well as the thousands of yearly visitors to Graceland. Merchandising rights were also recently sold to developers in Las Vegas who are planning to create another Elvis-related attraction. Watch this space.
4) John Lennon
After his tragic death thirty-four years ago, John Lennon still continues to pull in the big bucks — to the tune of $24 million last year. Both his career with The Beatles — who split in 1970 and still sell over a million albums a year — and his solo career have added to this substantial balance, with his widow Yoko Ono suing EMI for royalties and original recordings of his songs to the tune of $10 million.
5) Bob Marley
Yep, the king of Reggae and the face that launched a thousand poorly-understood t-shirts pulled in no less than $18 million last year. His main income comes from the continually high sales of his classic records, selling more than 75 million albums since his death. Oh, and we can't forget about the Marley Beverage Company and the House of Marley (which sells eco-friendly products). Sales of Marley's Mellow Mood relaxation drink (seriously) probably helped.
6) George Harrison
The only group with two members on the list, The Beatles, also gave the late George Harrison a fair amount of post-mortem cash too — he made around $7 million last year. Like Lennon, much of his money came from the continued sales of The Beatles music, but a good chunk of it comes from a very rewarding deal he made with Cirque de Soleil shortly before his death. What is it with Cirque de Soleil and people dying? I sense a conspiracy at hand…
7) Johnny Cash
Despite the ironically appropriate name, Johnny Cash is one of the most revered artists on this list, with a hard-boiled country career that landed him a place as one of the most globally recognizable country musicians ever. The release of the Walk the Line movie about his life sparked interest in the Man in Black all over again, and remastered sales of his CDs and live albums continue to sustain his estate eleven years after his death.
8) Richard Rodgers
While this might be the least instantly recognizable name on this list, I can guarantee you'll have heard some of this man's music — whether it's his solo creations or those created with his partner under the moniker of Rodgers & Hammerstein. His individual estate — which holds the rights to songs such as "Blue Moon" — pulls in around $6 million a year, and his collaborative work in the realm of $200 million.
9) Ray Charles
Ray Charles, the legendary performer and soul musician, was much lamented after his death in 2004. But his estate lives on to the tune of $6 million last year. An Oscar-winning film, a number of high-profile autobiographies, and the continued sales of his albums and collaborations mean that Ray Charles Robinson is the musician with the longest solo career on this list.
10) Jenni Rivera
The Mexican-American singer died in a plane crash in 2012, but she'd made a big enough impact to carry on her lucrative career after her death — to the tune of $6 million. A reality show about her life, I Love Jenni, rocketed her profile in the years before her death, and her autobiography has sold more than 400,00 copies. And her music lives on as well with 880,000 copies of her records being sold since her passing.
Around the Web