Top Ten Isolated Vocal Tracks of Classic Songs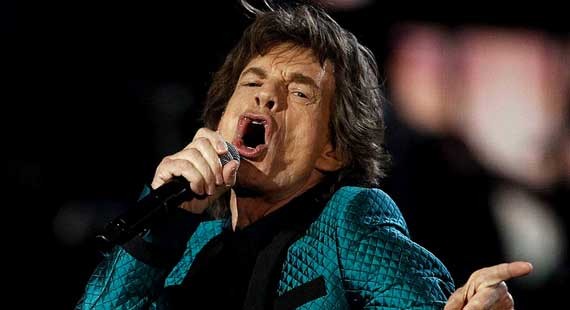 Since songs about "anacondas" and feeling "like a plastic bag" are popular right now, I would like to take you back to a simpler time. A time before Carly Rae Jepsen was asking you to call her (maybe). A time before "cake cake cake cake" implied more than a delicious, sugary birthday dessert. And especially a time before Justin Bieber was a thing. First thing's first, these tracks were (and remain) the realest. Stripped down, here are the isolated vocal tracks to some of the greatest classic songs in history. Prepare to go back in time and relive some iconic hits, my friends.
10. Journey "Don't Stop Believin'"
I had to get our list started off properly, and although it is arguably one of the most overplayed 1980s anthems in existence, this hit undoubtedly highlights Steve Perry's tremendous vocal range. Most people think they can drunkenly out-perform him at their local karaoke joint. They would be mistaken. Take a closer listen to the power behind his voice when isolated from the background music. While Perry is no longer a member of Journey, his voice is the strongest factor of this song, and it will forever live on at baseball games, hockey stadiums, proms, high school dances, and class reunions around the world. As long as groups of people are getting together, "Don't Stop Believin'" will continue to be played and butchered as people sing along. If you can suppress the urge to join in as he works his magic, I applaud you.
9. Elton John "Your Song"
It should come as no surprise that Sir Elton John is a part of this list, since his successful music career has seen the sale of more than 300 million records and plenty of accolades including Tony Awards, Academy Awards, and Golden Globe Awards. While he is lauded for his skills as a pianist (and amazing performer), this isolated vocal track demonstrates his ability to carry a tune a cappella. Released in 1970, "Your Song" was featured on Elton John's second album and became his first pop hit. The isolated vocals for "Tiny Dancer" are great as well, but the simplicity and emotion behind his young voice in "Your Song" in unparalleled. Since his voice has progressed throughout the years, this track is a nice blast from the past. He keeps the vocals clean and simple and in doing so effectively reaches people with his romantic message.
8. Duran Duran "Hungry Like the Wolf"
I know, I know. If we were playing a game of "One of These Things is Not Like the Other" this track would be the obvious answer. I unwaveringly love Duran Duran and therefore stand by my decision to include them in this list. "Ordinary World" would be a better choice to highlight Simon Le Bon's vocal range, but the internet has not chosen to bless us with this musical morsel just yet. Alas, I digress. Having seen Duran Duran live an unspeakable amount of times in my life, I can say that Simon Le Bon sounds better now than he ever has. In regards to his live performances, his voice has gotten stronger and more reliable since the 1980s. Having said that, this isolated vocal track from their hit "Hungry Like the Wolf" showcases Le Bon's ability to harmonize while bringing out the raspy pop quality of his voice. Although this version lacks the classic giggle in the beginning, Le Bon's harmonizing "doo doo doo's" are still enough to get you singing along.
7. Nirvana "Smells Like Teen Spirit"
This 1991 throwback plays up the late Kurt Cobain's hauntingly memorable grunge vocals. His transitions between soft, mumbled verses and the loud chorus are even more pronounced without the layers of backing guitars and drums. The strain Cobain's screaming takes on his voice is highlighted as the song progresses, achieving the ultimate hard rock effect. It truly is no wonder this hit single reached such popular critical and commercial acclaim and has long been considered a 90s teen anthem. Cobain's vocal performance on this track launched the alternative hard rock genre into people's awareness and spearheaded the grunge genre. His quiet, slurred singing progresses into a loud, chaotic chorus—a tactic often imitated by modern alternative rock bands. His powerful voice lives on long after his tragic passing. Take a listen as Cobain unknowingly screams himself famous. Try not to break anything as you thrash around. Or do. That would be a rather hard rock thing to do.
6. Queen "Bohemian Rhapsody"
The infamous harmonized a cappella opening. The legendary ballad verses. The chaotic operatic section that transitions into a hard rock meltdown. "Bohemian Rhapsody" is a layered classic rock gem! It has it all. Freddie Mercury's voice brings it home and now that I have found this isolated vocal track, I am hooked (and you will be too). This 1975 performance demonstrates the immense strength and variation in his iconic, often theatrical, voice. One minute he is singing a soft, emotional ballad, the next an opera, and then he blows us away as a hard rocker! The man could do it all. It is no surprise that Queen won two Grammy Awards for this song: Best Pop Vocal Performance by a Duo, Group, or Chorus and Best Arrangement for Voices. Take a listen as Freddie Mercury gives the vocal performance of a lifetime sans background music. Don't act like you're not impressed.
5. The Doors "Crystal Ship"
There were a few ways I could have gone with this one. I obviously knew The Doors had to be a part of this list, but with so many of their classics highlighting Jim Morrison's moody, brooding vocals it became difficult to pick just one track. Jim Morrison easily could have filled all ten spots on this list with his haunting, iconic voice. "Break on Through (to the Other Side)" was a close option (and I recommend looking it up), but when "Crystal Ship" proved more goosebump-inducing, my mind was made up. The echoed reverb effect throughout this drug-hazed track is outstanding especially when separated from the original dreamlike backing music. This 1960's classic epitomizes the psychedelic rock genre and is another way we can remember Morrison's legendary voice and its impact on music history.
4. Led Zeppelin "Ramble On"
Having influenced Freddie Mercury (among many others), Robert Plant naturally had to be a part of this list. His 1969 vocal performance of "Ramble On" is raspy, dynamic, and full of force. Plant controls his voice succinctly during each verse, often cutting his words in a staccato fashion. The control he exerts during these moments is equally balanced by his ability to fully let go and scream his way through to the very end of the song. Considered one of the best rock 'n' roll singers of all time, Plant has a raw, Bluesy quality to his voice that cannot be matched. Led Zeppelin was known for being a guitar-centric and fast-paced band, so it is interesting to check out this different perspective of "Ramble On" without Jimmy Page's infamous guitar riffs layered throughout. Enjoy!
3. The Beatles "Helter Skelter"
The original heavy metal screamer, Paul McCartney takes on a chaotic, raspy performance in the track "Helter Skelter," and it has certainly stood the test of time as he still regularly performs it when touring. McCartney arguably paved the way for heavy metal musicians with this performance. This isolated vocal track has been circling the Internet, and Beatles fans love being transported back to the 1960s. The original version features heavy guitar and loud drums, (which was notably the band's point when writing it), but hearing McCartney's hysterical vocals alone is enough to make you want to scream along. Be sure to listen for his subtle laughing interspersed throughout.
2. Marvin Gaye "I Heard it Through the Grapevine"
This a cappella version of the 1960s soul classic has seen over 2.7 million views on YouTube, and is well worth watching if you have not already. Gaye's gospel-inspired sound has pain, grit, and power behind it as he croons out this hit single. Known for his vocal range and ability to transition from a smooth, soft voice to a piercing falsetto, Gaye helped launch the now iconic Motown Records as an R&B/Soul label. Although many versions of this song have been recorded and performed throughout the years, Gaye's version has seen the most success (and rightfully so). Listen closely as Gaye takes on the narrator's pain and calls out his lover for being a floozy.
1. The Rolling Stones "Gimme Shelter"
If you don't get an insane amount of goosebumps listening to Merry Clayton kill her infamous "rape/murder" solo at the 2:46 mark, you need some serious help. Not only was Merry dragged out of bed in the middle of the night to record her parts (in only a few takes), but also she was pregnant at the time! I can barely find my bathroom in the middle of the night. This woman deserves a medal (or two, or three). Oh, and Mick Jagger's performance wasn't too bad either. If you are into Merry's solo, check out this clip from the documentary 20 Feet from Stardom in which she returns to the same studio to relive her recording session with the Stones. The entire documentary is chock-full of talented singers, but Merry's scene was by far a highlight.
Around the Web