How Widespread Panic Became One Of America's Best Live Bands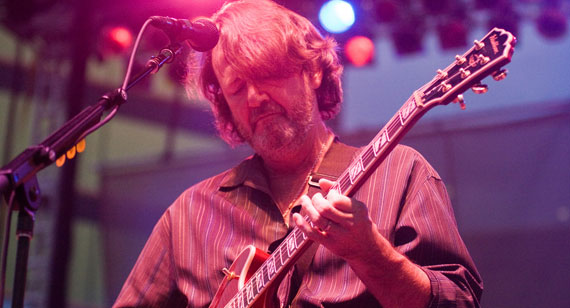 Hailed as the natural successors to the Grateful Dead, Athens collective Widespread Panic may not have achieved the same commercial success as their 60s jam band forefathers but have still managed to build up both a reputation as one of America's greatest touring acts and one of the most loyal live followings during their 25-year career.
Formed in the early 80s in the same Georgia city that spawned R.E.M., lead vocalist John Bell, lead guitarist Michael Houser (later replaced by George McConnell and then Jimmy Herring) bassist Dave Schools, drummer Todd Nance and percussionist Domingo 'Sunny' Ortiz first began performing their eclectic mix of Southern rock, blues, freeform jazz, prog and funk across various local fraternities and bars before becoming a regular fixture at the Uptown Lounge's one-dollar Monday night shows.
Still very much a local concern by the start of the 90s, the band made tentative steps to attract a wider audience by playing shows in Texas, the West Coast and Vancouver, whilst also supporting Jerry Joseph's Little Women in Colorado.
But they only really began to enter the nation's consciousness with the triple whammy of 1991's major-label debut, the following year's concert movie, Widespread Panic, Live From The Georgia Theatre, which was directed by none other than Billy Bob Thornton, and their appearance alongside the likes of Blues Traveler, The Spin Doctors and Aquarium Rescue Unit on the H.O.R.D.E. (Horizons of Rock Developing Everywhere) touring rock summer festival, which was designed specifically to give the jam band scene a more visible presence across the country.
Their increasing popularity was confirmed when over 80,000 fans turned up at the release party for their 1998 live album, Light Fuse, Get Away, a similar number of which also witnessed their two night headline shows at the first annual Bonnaroo Music Festival, whilst Don't Tell The Band, Ball and Earth To America, all three of which were released through the band's own Widespread Records label, all reached the midway section of the Billboard Hot 100.
Renowned for never playing the same show twice, 2002 behind-the-scenes movie The Earth Will Swallow You, which documented their summer tour two years previously, then revealed the process behind their improvisation, with the band choosing each night's set-list on the spur of the moment using little more than a colour co-ordinated laminated chart.
Regularly appearing in trade magazine Pollstar's 'Top 150 Bands On The Road' survey, the group preserved their critically-acclaimed status with a string of live albums including Night of Joy and Uber Cobra, (both of which were taken from a three-night run at Myrtle Beach's House Of Blues), and Jackassolantern, a compilation of songs taken from various Halloween dates, in addition to the theatrical release of second concert film, Earth To Atlanta. Whilst they also started to dig into their own archives by releasing vintage performances including Valdosta '89, Huntsville '96 and Carbondale '00.
But for a band so synonymous with the neo-hippie movement, Widespread Panic were surprisingly responsive to the digital age. Unlike many of their more mainstream peers, the group actively encouraged fans to record, trade and even distribute their own bootlegs of various shows, (although anonymous file-sharing wasn't permitted), whilst also uploading their own live recordings to download just days after each respective gig.
Despite promising to take things easier as they approached their 25th anniversary, the band continued to take their marathon genre-straddling sets on the road, performing alongside the Allman Brothers on a 2009 joint tour, embarking on their first ever entirely acoustic tour in 2012, the same year they also played in Mexico for the first time, and landing the record for the most sold-out performances at both Colorado's Red Rocks Amphitheatre (38) and Atlanta's Philips Arena (17).
Bassist Schools has since spoken out about Widespread Panic's label as a jam band, preferring the term retro to describe their sound. But whatever sub-genre they fall under, it's undeniable that the group are responsible more than any other for putting it on the map.
Around the Web