20 Bands We Will Regret Not Seeing Live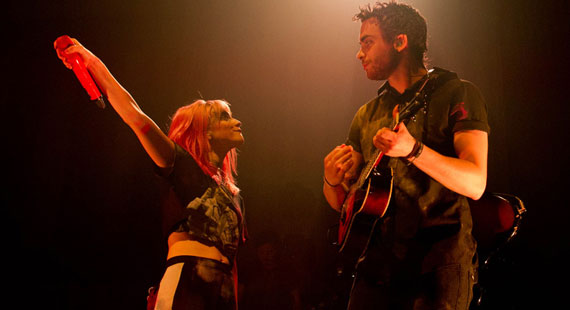 I've always wished I could have seen The Doors, The Beatles, Led Zeppelin, and Nirvana. Unfortunately, I was born a little too late to enjoy these acts live. In an effort to appreciate what live music opportunities I currently have instead of longing for the ghost of live shows past, I thought: what modern bands are people one day going to regret missing live? Weigh in with your picks in the comments section, and let's check out some shows before it's too late!
The National
Having come a long way since their formative days, the five members of The National are revolutionizing the indie rock scene with their eclectic sound. They can take even the most miserable, rain-soaked outdoor venue and turn it into a dreamy, magical space for music lovers. Often festival headliners, The National have been sporadically performing this year, but after back-to-back years of consistent touring, they deserve a bit of a rest before they come back and blow us away. Their last album, Trouble Will Find Me, saw much acclaim, selling over 250,000 copies in the U.S., and it even earned them a 2014 Grammy nomination for Best Alternative Album. Released in 2013, the band's documentary, Mistaken for Strangers, showcased their lives on the road as seen from Tom Berninger's perspective (he is lead singer Matt Berninger's brother). While they have yet to put out any new material since their last album and documentary, I doubt they'll stay quiet for long. Once you hear their haunting, poetic lyrics and soothing melodies live, the sounds rattle around in your body for days and weeks at a time. Fair warning: when they do tour again, get your tickets fast—they sell out quickly!
Radiohead
While some of Radiohead's members are exploring side projects and solo careers, many fans are left wondering when they'll be able to get their Radiohead live gig fix. Fear not—the band is reportedly hard at work on their ninth studio album, and they are doing a fine job of keeping its details under wraps. With a highly-anticipated album comes a highly-anticipated tour, right? While nothing is confirmed, we always have an excellent back catalogue of classics to repeatedly play. Listening at home, however, is not nearly as rewarding as the live Radiohead experience. The group oozes pure musicianship, playing under an impressively designed light show. Word of advice: just don't request "Creep."
Prince
Known for spontaneously announcing shows last-minute (and sometimes using Twitter as his method of doing so), Prince is well worth following online and in real life. Prince and his backing band 3rdEyeGirl recently announced the spring dates for their Hit and Run American tour. The tour began on May 14th in Louisville, Kentucky, and a portion of the tour revenue will be donated to Louisville-based charities as a nod to 3rdEyeGirl's drummer, Hannah Welton. While Prince has been playing new tracks from his 2014 solo LP, Art Official Age, and his album with 3rdEyeGirl, PlectrumElectrum (also released in 2014), he performs his classic hits such as "Let's Go Crazy," "1999," "Kiss," "Little Red Corvette," and "Purple Rain." The 56-year-old icon shows no sign of slowing down, as he keeps the energy high during his live performances. Who knows, maybe you'll be one of the lucky fans allowed on stage for the dance party during "Housequake."
The Rolling Stones
While it seems as if they'll never stop touring, and let's hope that day never comes, now is your chance to catch the Stones live. Let's be honest, you've had plenty of chances, and if you haven't seen them yet, shame on you! To celebrate the upcoming reissue of Sticky Fingers, the band announced a 15-city U.S. summer tour. After rescheduling a few shows on their last global tour due to the tragic death of Mick Jagger's girlfriend, L'Wren Scott, the band seems eager to get back to performing their hits. Generally speaking, you can expect a similar stage configuration as past shows, with the stage extending into the audience, but more importantly: what will they play? In an interview with Rolling Stone, Jagger said, "We're floating the idea of playing the whole [Sticky Fingers] album. At the very least, we'll play the songs we don't normally play." Ultimately, he still seems hesitant about the idea:
It's a really great album, but it has a lot of slow songs. Normally in a show we'd just do one or two ballads. Sticky Fingers has about five slow songs. I'm just worried that it might be problematic in stadiums. Maybe we'd play it and everyone would say, 'Great,' but maybe they'll get restless and start going to get drinks.
Honestly, they could play "The Itsy Bitsy Spider," and I'd still be happy as a clam. The tour runs from May 24th to July 15th, and tickets are on sale now.
Duran Duran
With the release of the band's 14th studio album due in September, we can only keep our fingers crossed that this means a tour will be announced. In the past, this has always been the case, so the odds are in our favor. Typically known to blend fan favorites ("Hungry Like the Wolf," "Save A Prayer," "Rio") with newer releases ("Girl Panic!" "All You Need Is Now," "Nite Runner"), Duran Duran are still the "band to dance to when the bomb drops," as singer Simon Le Bon stated back in the '80s. Slower hits like "The Chauffeur" and "Ordinary World" balance out lively remixes of "A View to a Kill" and "Girls on Film," and all the while, it's impossible to peel your eyes off the stage. Often unfairly underrated, Duran Duran revolutionized the concert-going experience by utilizing large screens to bring fans in the nosebleed seats closer to the action. To be fair, they certainly don't need any special effects, as their performances stand strongly on their own. Le Bon encourages fans to pull out their cell phones during "Save A Prayer" (albeit, they used to pull out lighters…), illuminating the sea of people singing along. Fans eagerly await his return when he disappears to the back of the stage during the instrumental, heavy-breathing portion of "Hungry Like the Wolf," and faces light up as he runs out, full force, to finish the rest of the song (he used to jump off tall speakers, but the times have changed). Fun, playful band introductions are still made during "Girls on Film," and although original guitarist Andy Taylor is no longer in the band, Dom Brown has made an excellent substitute, cultivating a following of his own. Duran Duran consistently sound crisp and professional, as they continue to play up their classic idiosyncrasies while mixing in fresh ideas.
Jack Johnson
Jack Johnson isn't going to melt your face off or rock you into oblivion, obviously, but there is something about his chill, surfer sound that leaves you walking away from his concerts wishing it wasn't over. Attending a Jack Johnson show feels like being carefree, sun-kissed, and digging your toes in the sand. Johnson keeps his stages minimal and always eco-friendly, but more than anything, he lets the music do the talking. Clad in jeans and a simple t-shirt, Johnson silkily moves through hits like "Hope," "Banana Pancakes," "Flake," "Taylor," and "Sitting, Waiting, Wishing," while incorporating newer tracks and the occasional cover. He's charming without seeming phony, and always engages with his audience, showing his gratitude and respect. Frequently switching between his ukulele and assortment of guitars, Johnson tells stories between songs and highlights his bandmates' strengths, giving them their chance to shine. A Jack Johnson concert isn't a shiny, overblown spectacle—it's a mellow jam session with friends.
Arcade Fire
Montreal natives Arcade Fire have performed sporadically over the past few years, but with a new album slated for an October 2015 release, perhaps they'll tour soon enough. True entertainers in their own right, Arcade Fire never disappoint. In the past, their gigs have included guest performances from talented artists such as Regine Chassagne and New York Dolls frontman Buster Poindexter, and they often choreograph professional dancers in such striking ways, enhancing the power behind their music. Throughout the entire show, a dance party erupts, and you can't help but get caught up in the surprises the band throws your way. Expect to leave covered in confetti, glitter, and happiness. In the meantime, it might help ease your withdrawals by checking out Will Butler's mini-tour in support of his debut solo LP Policy.
The White Stripes
Unfortunately, we won't get another chance to see The White Stripes play live, after they publicly announced their breakup in 2011. Jack White's blues-influenced psychedelic rock sound is certainly enhanced live, but unfortunately, catching him might be a bit tricky. White recently announced that he is taking a break from performing "for a long period of time." He just completed a tour in support of his solo album Lazaretto, and he recently headlined at Coachella. Recently, he announced a mini, five-city tour. What makes catching his next few shows difficult is the fact that we have no idea where he's playing. White will be playing in the five states he has yet to play. That's all we have to go off of. He will be announcing the location of each acoustic show the morning of. Tickets will cost only $3, and they're first come, first served… Oh, and cash only. Hopefully you're one of the lucky few that will be able to experience White's live performance before he goes underground.
Red Hot Chili Peppers
Sure, they're long past their tube sock-wearing days, but the Red Hot Chili Peppers still know how to shock and entertain an audience. Plus, Flea can still walk on his hands, and that's something worth seeing in person. Currently at work on a new album, the band is likely to tour in support of it. While no timeline has been confirmed, Flea described their upcoming album's sound: "It's cool. It's super danceable, funky shit and some real introspective, pretty stuff. It feels good, man, and it's fun to play it." With a longstanding reputation for being funky, the Chili Peppers know how to put on a good show. True athletes in their own right, they run around the stage, thrash around, and even mosh. Oh, and they're in their early fifties… Just watching them run around is exhausting, but catching them live again will be well worth the wait.
Tom Petty and the Heartbreakers
While Tom Petty could fill his set list with all of his hits (and he has), recently he has been throwing in some trippy covers and re-invisioning some of his classics. While no tour dates have currently been announced, I wouldn't expect him to be idol for very long. The classic rock icon can still get audiences singing along to "You Wreck Me," "Mary Jane's Last Dance," "Free Fallin'," "I Won't Back Down," and "American Girl" while incorporating newer music into the set. Guitarist Mike Campbell shines in his own right alongside organist Benmount Tench, bassist Rob Blair, drummer Steve Ferrone, and Scott Thurston. The amount of talent between all of these musicians is overwhelming, with body-shaking guitar riffs, and groovy bass lines complementing classic harmonica solos.
The Black Keys
While Tom Petty is one of the most prominent faces of classic rock, the Black Keys are the modern-day equivalent of classic rockers. Making their rounds on the festival circuit this summer, the band will be performing at the Bunbury Festival, Mountain Jam, Governors Ball, Isle of Wight Festival, Outside Lands, and Osheaga Festival, among others. 2012 saw the start of their career as tour headliners, and they haven't looked back since selling out Madison Square Garden in 15 minutes.
Mumford and Sons
Touring all summer, Mumford and Sons will be releasing their new album "Wilder Mind" on May 4th. The British rock band has cultivated a following that has been compared to that of Dave Matthews Band. Much like the chill sense of friendship and respect that you get at a Jack Johnson concert, Mumford and Sons' shows stir up a similar, familial vibe. While some of their songs are light, soft, and banjo-laden, the band knows how to get loud by adding in some drums, horns, fiddles, cellos, and guitars.
Florence and the Machine
Florence and the Machine is another act you can catch this summer. The indie rockers rose to fame with the release of their debut album Lungs in 2009. Ethereal lead singer Florence Welch leads the group with a delicate energy, twirling around stage and hitting all the right, goosebump-inducing notes. Yelping, laughing, and softly serenading the audience while wearing cape-like outfits is what the redheaded front woman does best. With only two albums under their belt, and a third (titled How Big, How Blue, How Beautiful) on the way, Florence and the Machine are a magical force to be reckoned with.
Phantogram
Still in the process of raising in the ranks as electronic rockers, the duo is bringing their captivating live show to audiences in the States and Canada this summer. Bandmates Sarah Barthel and Josh Carter have released two albums (Eyelid Movies and Voices) and four EPs, but they play with the professionalism of a band with an endless discography. Often the support act for larger bands, such as M83, they have hit the festival circuit hard, drawing in fans with their catchy beats. Don't let the strobe lights and sequined costumes distract you, memorable songs like "Running From the Cops," "Billy Murray," "Fall in Love," and "As Far as I Can See" will stick with you long after you leave their gig with a smile on your face.
The Roots
The soul-infused hip-hop band served as the house band for The Tonight Show with Jimmy Fallon, and with good reason. Their live shows combine jazz with rap and push genre boundaries like you wouldn't believe. They've dominated the festival circuit, guest-performed with Dave Matthews Band, and even backed Jay-Z during his Reasonable Doubt Concert.   Every night before the Grammys, the host a jam session, bringing in celebrities like Beyonce, Tom Cruise, Prince, and Snoop Dogg, among many others. If anything, Questlove's drumming is a legendary experience to see (and hear).
CHVRCHES
Led by the quiet, fair-skinned Lauren Mayberry, CHVRCHES (pronounced "churches") got their start in 2011, releasing their debut album The Bones of What You Believe in 2013. With the fast start they've gotten off to, they are an act to remember. The synth-heavy band has toured globally, stopping off at various festivals such as Firefly, SXSW, Coachella, and Bonnaroo, as well as opening for Depeche Mode. Having their song "Dead Air" featured on the Hunger Games: Mockingjay Pt. 1 soundtrack was huge for them as well. When performing live the subtleties in Mayberry's delicate, echoey voice are only enhanced by the punchy, electro-pop sound that her bandmates Iain Cook and Martin Doherty provide. If you want to dance, CHVRCHES is your band.
Paramore
They've come a long way since the days of being blasted in emo kids' iPods and playing small, dingey venues. The band, led by the energetic Hayley Williams, has grown into a mainstream rock powerhouse, selling out massive arenas. With emotionally charged lyrics, angry guitars, and catchy melodies, the band has perfected their formula for success. How Williams can scream, hit those high notes, and run around the stage full-speed is beyond me. Touring this Spring, you'll be lucky to get a ticket to any of their sold out shows.
Alabama Shakes
Touring well into next Fall, Alabama Shakes are promoting their upcoming second album Sound and Color. Frontwoman Brittany Howard leads the group with a power that enhances their Southern rock sound. Known for drawing in large crowds, their live shows have become a highpoint for festivalgoers. Howard notes her performance inspiration comes from legendary acts such as James Brown, Freddie Mercury, Michael Jackson, and Nina Simone. With a soulful, authentic energy, Alabama Shakes perform with a sense of urgency paired with utter coolness.
LCD Soundsystem
The punk-infused electronic act disbanded in 2011 after a Madison Square Garden farewell concert, much to the dismay of fans. Rolling Stone even went so far as to name them one of their "New Immortals" in 2013, asserting that LCD Soundsystem's music will "stand the test of time." Even Esquire claimed LCD Soundsystem was "arguably the most influential indie band of the past five years."
The Foo Fighters
Don't go to a Foo Fighters show if you're feeling tired or lazy because Dave Grohl isn't going to put up with your crap. Grohl and his bandmates feed off the crowd's energy, diving into long sets with unparalleled gusto. He always has a drum battle with drummer Taylor Hawkins, and that in itself is worth watching. Plus, you never know who is going to show up as a guest performer at their gigs. Touring this summer, their set lists include songs from their expansive discography, but often with an experimental twist.
Around the Web