CMA Festival Review: Blake Shelton, Lady Antebellum, Little Big Town, Hunter Hayes
Well I did it. It's my fault, and you can place the blame squarely on me. I said day two of CMA Fest couldn't possibly live up to the spectacle that was Thursday night's opener, and I was right. I jinxed it. It's all on me. Of course, that's not to say that Friday night's batch of sonic goodies wasn't a heck of a lot of fun. It just wasn't over-the-top to a sick degree like CMA's opening salvo.
The threat of rain hung over Nashville for most of the afternoon on Friday. In the hours leading up to Friday night's performances, the rain came. First, it was a mist that begot a shower, but it never amped up to the point where you thought LP Field would be water logged or that the storms might affect the performances.
Gloriana took the stage to sing the national anthem at close to 8pm. Just like the Oak Ridge Boys last night, their evening was done after fulfilling their patriotic duty. Jail bird Randy Travis opened up the music portion of our evening. The heavy boozing has made Randy an unfortunate regular on TMZ over the past year as the arrests just keep on coming. We even featured him in our best mug shots of music last week. Needless to say, it's good to see the country icon back onstage, rebuilding his tattered reputation through song.
Like most CMA artists, Travis didn't have long to wow the crowd, but he did the most with what he had to work with. He debuted his new George Jones tribute song he wrote with Joe Nichols, "Tonight I'm Playing Possum." He closed the set with a stirring "Forever and Ever Amen." He received a hardy applause from the crowd as the reigning elder statesman of CMA Fest.
Kip Moore took the stage next. He was introduced as one of People Magazine's Hottest Guys in Country, and the ladies seemed to be behind that endorsement whole heartedly. The Tifton, Georgia product played up that imagine with his backwards trucker hat and torn up Rolling Stones tour t-shirt from 1975. In case you were doing the math at home, that is five years before Moore was born.
He stuck it to the old producer who passed him by with "Reckless (Still Growin' Up)." He got all choked up when he sang "Hey Pretty Girl." The show of emotion was something the ladies couldn't get enough of. He was having a lot of fun onstage rocking out. He came down for a spell to give a collective high five to the fans gathered in the photo line. Kip Moore is a lot more than his chiseled abs and rugged good looks.
The previously mentioned photo line is a product unique to the CMAs. Anyone who bought a weekend pass for the CMA Fest was eligible to line up for their chance to come right down in front of the stage for that one perfect shot. It's a crowded space and security do their best to herd the cattle through, yet it's an experience normally reserved for the professional concert photographers. Even if you are just snapping a picture with your iPhone, I'd suggest you take advantage of this perk at least once when you are at CMA. Who knows. You may get pulled onstage to dance with Luke Bryan like a few lucky ladies did last night. Just be kind to security and move along when they tell you its time. They are just trying to accommodate all of the fans and you holding up traffic keep them from doing their job. Be courteous and realize this is a privilege and not a right at CMA.
It was interesting to watch the battalion of roadies shuttle equipment on and off the stage. With the feverous pacing of the artist sets, there really isn't time for these hard working gentlemen to do their jobs. They make the best of it, and certainly earn their keep for the weekend. Little Big Town was due to take the stage next but a computer malfunction bumped Hunter Hayes up in the line-up. I think the delay may have had more to do with a special guest running late. That's just me speculating of course.
Hayes has an interesting stage setup. All of his equipment, and even his piano, have lyrics scrawled across them. Any fan would recognize the phrase, "I don't want easy, I want crazy." Hunter has been touring with Carrie Underwood since the fall. The legend of his live show has been growing ever since as he scored the pretty posh gig last week, headlining the upcoming CMT On Tour.
Country music thinks a lot of Hunter Hayes, and it's easy to see why. He's a very likable guy with a great energy on stage. He frequently jams out, putting on his best tortured John Mayer face when he settles deep in the groove. He's as comfortable behind the piano as he is the guitar and fosters a great connection with the audience. Ladies and gentlemen, we may be witnessing country's next big star.
Singer-songwriter Jason Mraz made a special guest appearance at the close of Hunter's set. He joined Hayes for their collaboration "Everybody's Got Somebody But Me." It was cool of Mraz to come around to help out a friend for such a short appearance.
Little Big Town was supposed to be flip flopping sets with Hunter, but as time wound down it was clear Lady Antebellum would find their way to the stage next. Hillary Scott is very pregnant at this point. Her due date is in July and the announcer said he hoped her little girl didn't come to visit us early at CMA. I feel for her though, performing at this stage of her pregnancy. She is a trooper and a true professional.
Lady A opened with "Own the Night" off their new album. The trio sounded tight and played off of one another like they'd been doing this all their lives. As soon as Dave Haywood sat down at the piano, everyone knew what was coming. Their ground breaking single "Need You Now" got a big applause from the audience. Kudos to Hillary for making this moment happen at CMA.
Just as I'd sent out the search party for Little Big Town, they wiggled their way into the line-up next. They had a rather unconventional way to start out their evening. There was a satellite stage setup just behind the front field section at LP Field. The roadies trucked the essential gear over and the band performed "Your Side of the Bed" from there to get a little closer to their fans. Afterward, they made their way to the stage where they kicked up the wind machines and the smoke cannons for a rousing "Tornado."
The quartet sounded great as they waded through the "Boondocks," each member taking turns sunning under the spotlight. Sheryl Crow showed up to play a couple songs with the group. In fact as soon as she took the stage, she took over the set. She played "Soak Up the Sun" and her new country single "Easy," usurping Little Big Town's set. I'm all for guest appearances, but this was more of a co-billed set between Little Big Town and Sheryl. Let's get the newly country Sheryl Crow her own set at next year's CMA Festival.
Blake Shelton was Friday's headliner at the CMA Music Festival. The star of The Voice left behind the judges' chair for the evening to charge up the Nashville crowd. He certainly wasted no time setting the mood, opening with 80s anthem "Footloose." I was a little surprised to see he and Miranda scheduled on separate nights. I would have thought they would have been a perfect duo to be scheduled back-to-back and perhaps give us a duet. Alas, it just wasn't to be.
Shelton played crowd favorites like "Honey Bee" and "Drink On It." The later was the perfect excuse to have a tall one brought to him in a Solo cup. Liquor and country music just seem to go hand in hand. He got his redneck on with "Boys Round Here." I half expected to see a special guest during Blake's set after Zac Brown spoiled us with two last night, but it never materialized. Shelton played a great set, showing why he's become one of country music's elite.
CMA Friday night was a great evening of country music. While it didn't come close to topping Thursday night's effort, there were a lot of memorable moments and fun guest appearances that will stick in the audience's minds for years to come.
Our CMA coverage continues tomorrow as we feature Saturday's crop of artists that include none other than Keith Urban, Kelly Clarkson, Florida Georgia Line and Dierks Bentley. Keep checking in throughout the weekend as we retell the tale of CMA Festival 2013.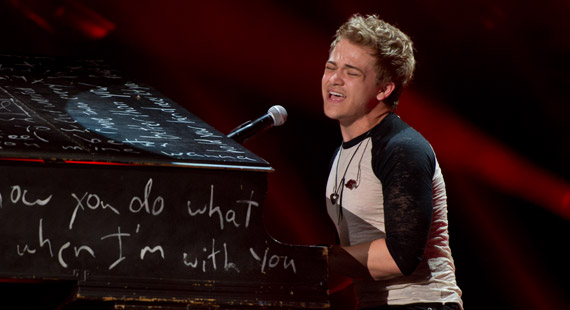 Around the Web